Have a tough time choosing between these Braun series razors?
We've got your back!
When comparing the Braun 7 series vs 9 series, many things can appear confusing, especially if you've been shaving with a regular razor. Checking out and reviewing ideal products is our expertise; we'll help you find out what's best for you because that's what is essential.
We've combined all the crucial factors and features of these models into one article that will surely help you decide between Braun Series 7 vs 9.
Main Differences Between The Braun Series 9 VS 7 
The main differences between the Braun Series 9 VS 7 are:
Series 7 has three cutting elements, whereas Series 9 only has two.

Series 7 comes with a matte finish, whereas Series 9 comes with both matte and glossy finishes.

Series 7 shaves faster, whereas Series 9 shaves closer.

Series 7 specializes in comfort and anti-irritation, whereas Series 9 is ideal for all hair types.

Series 7 cleaning stations clean, sanitize, and lubricate your shaver, whereas Series 9 does the same but includes the drying process. 
Overview And Product Description
The series 7 and 9 models are two of the best electric shavers Braun has released. These had the following sub-models with improved features, just like the 7865cc and the 9290cc sub-models.
The first generations of series 7 and 9 were only capable of shaving dry. Right after these, sub-models that were designed for both wet and dry shaving came out.
If we look at the similarities between the two, it is noticeable that they both consist of the same top technologies that the brand Braun is famous for; MicroComb, SkinGuard, OptiFoil, and so on.
Let's go deeper into each for a deeper understanding of the Braun series 7 vs series 9.
Braun Series 9 vs Series 7: Build And Appearance
A Braun electric shaver is sure to consist of two things, quality build, and appearance. These two features are very evident within both of these models/series. 
Design
Braun's Series 7 was first launched with a simple design and durable build.
The later generations of this series offered a dark gray matte finish; the body remains solid and chunky. 
One of the characteristics of series 7 models' design is using an ample amount of rubber. This is resistant to fingerprints and offers a secure grip, even in damp environments.
The design of Series 9 looks sleeker and gives you the option to choose between a matte and glossy finish. The difference between these two is that the glossy finish invites fingerprint marks while the matte finish prevents them.
Interface
The earlier model, series 7, comes with a battery and hygiene level indicator at the bottom. Its classy design provides minimalism at its prime.
On the other hand, series 9 was built with an LED display just to do the same, indicate the battery level, and tell you when it's time to clean your electric shaver. It also comes with a travel lock indicator.
Both models can be ergonomic, depending on your preference.
If you would like a chunkier model for better grip, then go with the series 7, but if you prefer a bigger, slimmer design, then the series 9 is the way to go. 
Cassettes/ Shaving Heads
This model was famous for being one of the first foil electric shavers that came with not one, not two, but three different shaving elements: two OptiFoil cutting heads and an ActiveLift Trimmer. 
The OptiFoil technology mows down flat-lying hairs in hard-to-reach areas like the neck, while the SkinGuard protects you from friction and irritation.
One of the exciting parts of this model is its 8D Flexible razor head that cuts hear on different contours. This is a free-floating shaver head where the shaving elements pivot in their directions, both left and right, separately. 
If Series 7 consists of three cutting elements, Series 9 is an improved version with four cutting elements, helping it cut closer than ever. These four cutting elements are the two OptiFoil trimmers, one HyperLift & Cut trimmer, and one Direct & Cut trimmer. This comes in contrast to earlier models covered in our Braun Series 6 review which only have two elements.
Other than that, this model also comes with the all-new 10D Flexible shaving system. Like Series 7, it has cutting elements that pivot left and right, mixed along with the shaving head that moves in both directions, which equals a 10D feature.
Trimmer
Both of these shavers come with trimmers for your sideburn areas and facial hair.
When it comes to the Series 7 model, the precision trimmer has a curved profile, and you'll have to hold it perpendicular to the surface you want to shave. This requires force and stability. 
On the other hand, the Series 9 model came with a redesigned precision trimmer due to complaints about the curved trimmer of the Series 7. Instead of popping to the side, Its trimmer slides up instead.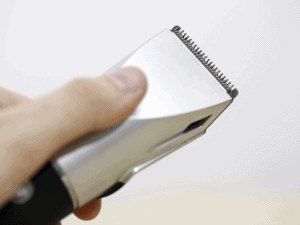 Battery and Charging Station
Both series 7 and 9 make use of the same high-capacity lithium-ion battery. It takes about 60 minutes to charge fully and would constantly work for an estimated 50 minutes.
However...
If you find yourself in a hurry, you can enable its 5-minute quick charge function that should last you an entire shaving cycle. 
In terms of the charging station, you have the option of buying the series' with or without including its clean/charge station. Your device will, of course, function as it should even without this, but it won't be so convenient.
Braun cleaning and charging stations are some of the best ones in the industry. Not only does it keep your shaver clean, but it assures its durability, longevity, and shaving performance.
These stations use an alcohol-based system to clean and sanitize the blades. The cycle of cleaning ends with a lubrication process to ensure smooth functioning.
Cleaning your electric shaver would not be so complex either, especially if you're used to doing so. But, these models of Braun have shaving heads that do NOT disassemble, so you're going to have to work your way around them.
Note that the charging stations of series 7 and 9 are not interchangeable, unlike the other models.
The cleaning stations of series 7 have a sleek interface, and it has buttons for almost every feature, except for the induction heating. Compared to the models before, the base of series 7 did not retain this heating feature, making the drying process much longer.
The series 9 cleaning base was redesigned for convenience. It consists of only one button that activates the entire cleaning-sanitizing-lubricating-drying process. That's right, the drying process; makes use of a fan that is three times more effective than induction heating.
This is how to use the clean & charge station:
Braun Series 9 vs Series 7: Quality And Features
Speed
The winner of this round may be too obvious; having an extra blade or cutting equipment is always an advantage when speeding up the process.

Earlier, we mentioned that series 9 has four cutting equipment compared to series 7's three blades. Not only that, but it also has a larger motor; more power, less effort.
You won't have any trouble shaving four days worth of beard growth if you're using series 9. It is designed for thicker and coarse hair and does not require much force for a close cut.
Closeness
For some, a close shave is crucial, and for others, well, not much.
If you prefer a closer shave, you should go for Series 9. Although the closeness of series 9 and 7 don't differ that much, series 9 will require much less work on your end (less time, less force).
Before series 9 was released, series 7 was Braun's closest shaver. That was because of its twin foil, middle trimmer setup, and other features. Compared to the series 9, this one helps avoid skin irritations and razor bumps and burns at the cost of your effort.
The series 9 has an extra cutting element that allows it to shave slightly closer than series 7.
Comfort/ Ease of Use
Comfort and ease of use vary depending on the user. It all depends on the things you like and the things you don't. 
For example, series nine supports wet and dry shaving, but not all of the sub-models of series 7. 
Now, if you're someone who enjoys shaving and likes getting into foams and shaving while showering, then this affects you. But if you only go for dry shaving anyway, then it wouldn't matter now, would it?
If you've got thick and fast-growing hair, you will find the Series 9 sub-models easier to use than the series seven ones, as they were not designed for your hair type.
If you've got sensitive skin, you could go for any of the two as they both excel in anti-irritation and gentleness.
But, if your hair grows fast, you should go for the Series 7 mainly because it makes use of Braun's micro-vibration technology, which gently massages your skin while it does its work. 
This helps those with fast-growing hair because you can use the high-intensity mode at all times without any worry that your skin will get irritated or burnt. Not only will your shave be cleaner, but faster too!
When it comes to the Series 9, you'll love to know that its shaving head never heats up (even at its highest setting or with extra cutting element). This is a common issue with electric shavers that uses more than three blades, but not the Braun Series 9!
Compared to the series 7, this one feels slightly smoother to the skin.
Braun Series 9 vs Series 7: Maintenance And Care
When we talk about maintenance expenses, one model outshines the other for one reason: the cost of its shaving heads/cassettes. 
Both of these shavers make use of the same cartridges in their charging/cleaning station. Compared to other models, the only difference would be the cost of the replacement of their cassettes. 
The Braun Series 7 cassette replacements are much more affordable and budget-friendly than the Braun Series 9 ones. These are recommended to be replaced every 18 months.
Other parts like the clean and renew cartridge refills last for about two to three months.
The total maintenance expense of these two models isn't very far from each other; you could say that they're maybe an estimate of $10 apart. 
If you take care of your equipment enough and regularly, the only expenses you'll have would be what was mentioned above. But if not, you'll end up spending more than you expect; you might even end up purchasing a new one out of frustration.
This is why it is crucial to know the proper and correct way to condition and maintain your shaver.
Frequently Asked Questions
Is The Braun Series 7 Good?
Yes, it is. The newest Braun Series 7 is an all-around ideal choice if you prefer electric shavers or would like to give it a try. Compared to traditional multi-blade razors, you won't have any issues shaving any type and thickness of hair with the Braun Series 7. It is also ideal for both wet and dry shaving and has a trimmer attached. 
How Good Is Braun Series 9?
The Braun Series 9 is an ideal and highly recommended electric shaver. Its aspects and new features are supreme compared to other models. The only reason why this model is still in the shadows is because of its not-so-affordable price. 
If you've got quite a beard density that grows fast, you won't have a problem using the Braun shaver: Series 9 every single day because of its convenience and effectiveness. 
Can I Wet Shave With A Braun Series 7 Or 9?
Yes and no. They both win if you're trying to see which is better between the Braun 7 vs 9 in terms of their waterproof feature. But when we're talking about their dry/wet shaving options, it will have to vary depending on the sub-model. 
The first sub-models of the Braun 7 and 9 did not come with a wet/dry shaving feature, but those that came after it did. Make sure to check the sub-model of your Braun series 7 or 9; you can also proceed to the user's manual to find out.
Finishing Remarks 
In this article of Braun series 7 vs 9, there is one clear winner: the series 9. However, it is not up to us to decide on that. When we talk about which series is better for YOU, only you know the answer.
If you've finished this article and you still feel confused about the best electric razor, then maybe you should visit a store and take a closer look at both models, even test run them if you have to. Remember the essential parts: comfort, convenience, and effectiveness. It all depends on what you prefer and need. 
Whichever you end up choosing, we hope it works out well for you!