You can use the perfect hair moisturizer and durag, but your 360s won't truly form a neat pattern until you comb your hair the right way.
Hence...
You need the best wave brush in the market.
Interestingly, while searching for good wave brushes for this review, we came across several top-rated Torino Pro brushes. To that effect, our top choice is the Torino Pro Wave Brush No.450. Find out why below.
The Best 360 Wave Brush Guide: 7 Top Choices Reviewed
1. Torino Pro Wave Brush No.450 - Best Overall
After looking at the benefits offered by some of the top brushes, we ranked Torino Pro's No.450 as the best 360 wave brush because it's a medium-hard brush. Consequently, you can use it during most of the wave formation stages, from a 2.5 cut to wolfing. 
You'll love its great pull that aligns the waves for a uniform pattern regardless of the length of hair you have.
As it penetrates to the scalp, you won't lose the grip because it has a handle. If your hair is long and the handle makes you lose the pull, you can hold it on the sides so that the brush fits in your palm.
Pros
Medium hard to suit various wave formation stages

A handle for a firm grip

Great pull

Reaches the scalp

Curved to complement the shape of a human head
Cons
Takeaway
Torino Pro No.450 is a medium-hard brush, so it works on almost all the stages as you develop waves. That's such a rare feature as most brushes work either on a low cut or during wolfing. This one reaches the root of the hair, but it doesn't hurt your scalp.
---
2. Torino Pro Wave Brush No.470 - Best Hard Brush
During wolfing, your hair may grow too long that it hides the initial wave pattern. That being so, a good brush can tame the hair and align it to the waves you'd developed earlier. The Torino Pro Wave Brush No.470 does that as it's for thick and coarse hair.
It's a hard brush with such a firm pull that it'll reach the scalp despite the length your hair grows. Furthermore, it has a handle for a better grip.
As its curved tip brushes your hair outward from the crown, it gives you well-defined waves all around.
Pros
Excellent for wolfing

Sturdy design

Hard bristles that make it durable

Creates firm waves

Defines the shape of waves from the root

Has a firm handle
Cons
The hard bristles may irritate your scalp if you have short hair.

A bit expensive
Takeaway
This hard brush is affordable when you compare the quality it gives you with other brands. It's for the wolfing stage when you have long, thick hair.
That being the case, it won't hurt your scalp. If you use a soft or medium brush on such hair, you won't get waves, or they'll take a long time to form.
---
3. Diane Premium Boar Brush - Best Lightweight Brush
I found the Diane Premium Boar Brush fascinating as it's double-sided. How does that benefit you? A double-sided wave brush lasts longer than a traditional brush because it has lower bristle loss.
If you're not sure of the brush to buy, this one gives you two types of bristles on one wave brush.
One side has medium bristles, and the other has firm bristles reinforced with nylon. Hence, you can use it on both medium and coarse hair textures.
It's also lightweight, weighing one ounce only. Therefore, if you've split your brushing sessions across the day, you won't feel the impact on your wrist at the end of the day. Lastly, it has a wooden base with UV coating to keep the moisture out, so it's durable.
Pros
Bristles on two sides of the brush

Suitable for very coarse hair texture

Lightweight

Durable
Cons
The plastic coating on the stiff side makes it brittle.
Takeaway
Creating 360s takes several stages, some of which require different bristles. This double-sided brush has both medium and hard bristles; thus, it can brush coarse hair.
---
4. Diane Soft Boar Bristle Brush - Best Budget Option
Its soft bristles brush and detangle your hair without irritating your scalp, no matter the number of strokes you brush every round.
You can use it on a fresh cut, more so if you're developing waves for the first time.
Additionally, Diane Soft Brush transfers moisture down to the scalp giving you soft, smooth hair. It has a handle for a firm grip as you brush your hair so you can put enough pressure on the strokes. Another advantage, it's affordable.
Pros
Wooden handle

Soft on the scalp

For wavy to curly hair
Cons
The bristles fall out with time

Too soft, it may take time to form a pattern
Takeaway
It's a soft bristle brush that polishes your hair and distributes pomade to keep your waves firm. Since it has a handle, the brushing process is easy.
---
5. Wav Enforcer Brush - Best For Low Cut
The Wav Enforcer wooden handle makes it lightweight for easy brushing for as many strokes as you need. On top of that, having a long handle makes it easy to use without your fingers messing up your waves as you comb.
This brush has firm boar bristles that suit thick hair.
It's a medium brush; therefore, you can use it during the start of the wolfing stage for firm strokes to distribute pomade.
Pros
Long brush for easy brushing

A wooden handle makes it lighter

Medium hard to prevent scalp irritation

Forms neat waves

An affordable price

Excellent as you start wolfing
Cons
Not for really coarse hair
Takeaway
The Wav Enforcer Brush is a medium-hard wave brush, so it's gentle on your scalp as it defines your waves. It's also easy to use because it's lightweight.
---
6. Torino Pro Wave Brush No.730 - Best Medium Hard Brush
Torino Pro are good wave brushes, so this one won't disappoint. It's a good choice for any stage of wave development, from a fresh cut to wolfing, because it's a medium brush.
The first thing you'll notice is the curved shape that corresponds to the curves on a human head.
Consequently, you'll have a firm grip. Its pointed tip helps you comb from the center of the crown, unlike a brush with a rectangular tip.
Moreover, this brush has natural boar bristles to withstand the pressure of brushing without shedding the bristles daily.
It has such great pull that you'll see the waves forming in about a month of brushing.
On the downside, if you like brushing your hair in the shower, this brush isn't for use in water.
Nevertheless, you have a whole day to brush your hair, so skipping the shower schedule won't alter your routine a lot.
Pros
Medium-hard bristles

Natural boar bristles without plastic coating

Curved shape reaches all around your head

Wide enough for a ripple effect on your hair
Cons
Not suitable for long hair
Takeaway
It's a brush you can trust to develop waves within the shortest time. This medium brush has firm bristles for an exceptional pull. Its curved tip pulls hair from the crown better than other types of wave brushes.
---
7. Aosina Wave Brush - Best For Thin Or Normal Hair
It'll take you a few months to develop waves, and even after, you must keep brushing your hair. For that reason, a wave brush is an investment, and getting a long-lasting one saves you the trouble of going back to the store.
This brush from Aosina has natural boar bristles, which make it durable. Natural bristles also brush better than synthetic ones, and they minimize split ends. These bristles aren't too soft or too stiff, so they'll brush your hair sufficiently.
You'll also note that this brush has curved edges to reach deeper into the hair and curve along your face.
Furthermore, it's a compact size that fits into your hand.
Pros
Curved shape for maximum reach

Natural boar bristles

Compact size
Cons
No handle, slippery when wet

Too soft on textured hair
Takeaway
It's a medium-hard brush, so it may not brush your textured hair firmly. However, if you're wolfing, this brush will do the work.
---
Those are seven wave brushes that promise the best 360s. Once you buy one of them, here's,
How To Get Perfect Waves
I'll give you some points to remember:
Moisturize Your Hair Daily
As you choose what to have on your hair, focus on products with ingredients that boost hair health instead of the ones that only make your hair shine.
Primarily, you'll be brushing your hair for about an hour daily, so your hair shafts must be firm, or you risk tremendous hair breakage.
Hence, look for moisturizers with oils that boost hair strength and hair growth.
Wear A Durag
Moisturized hair has a healthy sheen that'll make your 360s pop. Additionally, moistened hair doesn't break when brushing. Thus, lock the moisture in by wearing your best durag at night to prevent friction as you lay on your pillow.
Wear a silk durag as this material prevents moisture loss, and it doesn't cause hair tangles. Further, it compresses your 360s. Tie it with the seam-side up so that it doesn't mess the pattern of your waves.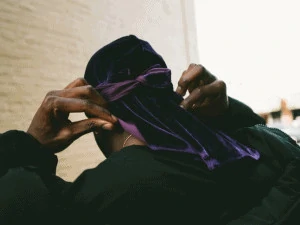 Get Regular Haircuts
Wolf by growing your hair for some weeks without cutting it if you want to get deep waves. During the 4 to 6 weeks of wolfing hair, your barber can give you a line-up to straighten your hairline and define your waves.
However, let your barber know you don't want the rest of your hair touched as waves are forming.
When wolfing is over, cut the hair short following the contour of the 360 waves, not against them. On that note, don't cut your hair too short, such that your scalp is visible because the brush may scratch it.
Buy A Good Shampoo And Conditioner
Best wave pomades, holding creams, and texturizers are just some of the many products you can apply to your waves daily. These may accumulate if you don't wash your hair regularly. 
For that reason, wash your hair about twice a week to prevent product build-up. Nevertheless, the shampoo should be gentle, without harsh chemicals that strip off natural hair moisture.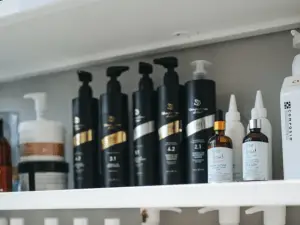 Before we conclude this article, here are answers to...
Frequently Asked Questions
Is There A Brushing Pattern For 360 Waves?
Yes, 360 waves have a brushing pattern. Here's a quick guide.
Brush your hair outward from the crown in every direction. Start from your crown and brush the hair out toward your forehead. Next, brush the rest of the hair from the crown toward your cheeks. Lastly, brush from your crown toward your neck.

You have to brush your hair in this pattern for over two months as basic steps on how to get waves. Whenever you brush your 360s, brush each part of the head for at least 50 strokes.

When starting, brush in intervals of about 15 minutes, for say, an hour daily. As the brushing process flattens the strands, there's a ripple effect all around that forms a wavy pattern. 

Every time you brush your hair, moisturize it first. If your hair is dry, rinse it, then wrap a warm towel for about five minutes.
Can I Use The Same Type Of Wave Brush For Long & Short Hair?
No, because a hard wave brush can irritate your scalp when you use it on short hair. Therefore, buy different types of wave brushes. As you start the process to 360s, you'll have short hair, which will use a soft bristle brush.
Then, you'll move to a medium bristle as your hair's length increases and finally use the hard brush during the wolfing stage.
You may also come across a medium-hard brush that suits a low cut to wolfing. For instance, the Torino Pro Wave Brush No.450 in our review is the best brush for waves between the low cut and wolfing stage.
Also, soft brushes are ineffective on textured hair. They may not even form waves on wavy hair. In such scenarios, go for a hard brush like the Torino Pro Wave Brush No.470.
Brush your Waves Properly with these techniques:
Are Curved Wave Brushes Better?
Yes, the curve aligns the brush to the shape of your head. For instance, the Aosina Wave Brush in our review has an oval shape that allows it to brush from the center of your crown.
Is A Hard Or Soft Wave Brush Better?
As I mentioned in my answer to the first question, they are both good for different reasons. When you have long hair, a hard brush gives a great pull. On the other hand, when you have short hair, using a soft brush ensures you don't scratch your scalp. Your hair texture determines the strength to apply in every stroke. On that note, coarse hair needs a hard brush.
We can wrap up this review by saying...
Final Thoughts
Your 360 waves start forming as soon as you cut your hair and make the first brush strokes. Therefore, it's prudent to get a brush you can use from your low cut until the waves develop fully.
The Torino Pro Wave Brush No.450 does that, and its medium-hard bristles also work during wolfing.
Its bristles distribute pomades evenly from the scalp to the tip of your hair. However, it's a bit pricey, so if you're on a budget, choose Diane Soft Boar Bristle Brush. It's for wavy to curly hair, and it's safe to use on a sensitive scalp.