Have you switched to a safety razor recently and need a synthetic shaving brush for it? Or, you're using one with natural hair, and you want to replace it with synthetic fiber?
Well...
Your situation doesn't matter. With this list of the top 10 synthetic shaving brushes, you'll find something suitable for you.
As we list them, we'll also talk about features that should stand out for you and how to take care of them.
First, let's look at the best brushes for wet shaving, starting with Anbbas 4in1, the best synthetic shaving brush.
Top 10 Synthetic Shaving Brushes
1. Anbbas 4in1 - Best Overall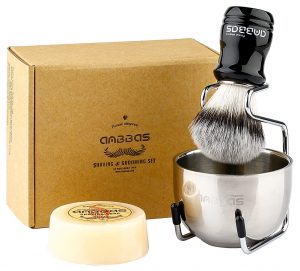 When you have an Anbbas 4in1 shave brush in your hand, the first thing you notice is the quality of the bristles. They are soft as they are nylon fiber, which is smooth on the skin as you spread shaving cream over the beard.
Plus, this fiber creates a rich lather on all skin types, from dry to oily. Aren't these the features we need in a grooming tool?
Its soft fiber also makes it suitable for users with sensitive skin that'll feel the pricks of animal hair.
Since it's a 4in1, it's a kit with other grooming tools, such as a durable stainless steel soap bowl, so you can start shaving as soon as you receive your package. Even better is that it's an affordable kit; therefore, you can buy one for each friend or family member who uses traditional razors.
Pros
Faux badger shaving brush

Affordable

Four in 1 kit; it has shaving soap, a stand, and a bowl

Durable resin handle

Soft fiber

No shedding

Ergonomic shape

Creates suds fast

Unisex
Cons
The brush stand may tip over.
Takeaway
Anbbas 4in1 is a complete set with soap, a stand, and a soap bowl. That's all you need for your grooming routine. Plus, it's the best synthetic shave brush for everyone, even people with problematic skin.
---
2. GBS - Best Budget Option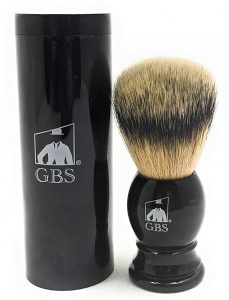 The rich lather from these fibers will make wet shaving more fun for you. It'll create a good platform on which the blade can glide without irritating your skin. Plus, it doesn't matter whether you use shaving cream or soap as it works with both products.
GBS is affordable; thus, you have more funds to get other accessories and products needed to groom your face. Its long handle has a professional touch that brings that luxurious barbering atmosphere to your DIY grooming routine.
On top of that, it's an elegant package with a travel canister to hold your synthetic brush.
This case is water-resistant to protect the fibers from moisture and other elements.
Pros
Silvertip bristles

Vegan fiber

Water-resistant travel canister

Long handle for comfort

Works with shaving soap and cream

Durable design

Soft, smooth artificial hair

Budget-friendly

Sturdy construction

Creates thick soap froth
Cons
Takeaway
Its tips are soft; therefore, they won't prick your skin or irritate it. These fibers are sturdy, so as you sweep your face to cover the hair with cream, they'll coat all of it ready for the safety razor.
---
3. Simpson Trafalgar Brush - Best Faux Ivory Handle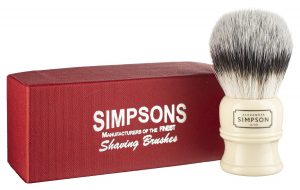 You'll be enjoying the work of a company that started in 1919, one that is still making the traditional shaving brush. This Trafalgar Brush handmade accessory has high-quality synthetic fiber that's as good as a badger brush.
Your grooming experience will be worthwhile as it creates voluminous soap suds, and the fiber holds a good amount of water after you squeeze it out.
It doesn't retain as much water as horse hair, which means you'll not use too much soap and weigh the fibers down.
Pros
Creates enough foam fast

Renown brand name

Handmade
Cons
Takeaway
The compact size lets you reach the area under the jawline and mustache, covering it with enough cream to protect the skin from nicks. Additionally, the Alexander Simpson Trafalgar Brush is easy to rub with shaving soap or cream.
---
4. Vikings Blade - Best Design Option
Vikings is another brand you want on your bathroom shelf as it makes almost everything related to grooming, so synthetic shaving brush reviews are incomplete without it. That being the case, you can use synthetic bristles from Vikings Blade to cover the beard or legs, then shave with a Vikings safety razor.
Its fiber is as good as a silvertip badger hair shaving brush as it gives you stiff tips that can rub cream even on coarse hair. It works with hard water and exhibits excellent water retention regardless of how long you've had it.
This Vikings Blade hair shaving brush has a durable gunmetal steel base that gives it a unique design compared to other brands.
Pros
High bristle quality

High water retention

Soft fiber

Stiff fiber tips
Cons
The writings on the handle may come off 

It may shed
Takeaway
 It proves that you can use synthetic fiber and still enjoy the benefits of a brush with a natural badger shaving brush. The Vikings Blade fiber retains enough water to create rich foam to cover the area and keep the blade off your skin.
---
5. The Body Shop Brush - Best Wooden Design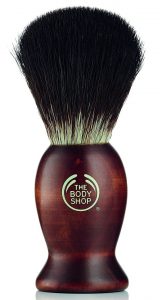 It's not a badger brush, but you'll get thick froth irrespective of the size of the body part you're lathering.
Further, it's soft on your face, which is necessary as you'll be rubbing this sensitive part with the fiber. It dries without losing shape when you wash it, and the bristles don't shed even after extended use. It dries quickly, and it only takes a few jerks to remove the excess water after you wash it.
The Body Shop Men's Wooden synthetic brush is fairly priced even though its wooden handle gives it a stylish, luxe look. 
Pros
Firm grip

Luxe wooden handle

Soft fiber

Inexpensive
Cons
The bristles may feel hard at first.
Takeaway
The wooden handle gives it a firm grip, and its synthetic fiber is of high quality. Overall, the Body Shop Men's Wooden groomer is soft and comfortable, even on sensitive skin. Its price is affordable for such an exquisite design.
---
6. Razorock Plissoft - Best Vegan Option
Razorok isn't as old as Alexander Simpson, but it's been here long enough to craft quality fibers that don't shed or irritate problematic skin.
It proves that you don't need a horsehair brush to do a good job shaving your face, legs, or anywhere else.
It's firm, plus the fibers pass over the face so softly you'll not feel them if you have a coarse beard.
Lastly, it dries fast when you sling out the water.
Pros
It doesn't shed

Easy to clean

Absorbs water sufficiently
Cons
Takeaway
Razorock Plissoft lathers so well that it takes the same effort as using natural fibers on a boar brush. There's even foam left for a second pass if you need one. You can use it with hard soaps, and it'll not perform any less.
---
7. Satin Tip Hair Brush - Best For Firm Backbone
The Satin Tip fiber has an ultra-soft synthetic knot, the reason it's as good as a pure badger shaving brush. Its handle is soft but with a non-slip grip that makes it comfortable to use.
Further, Satin Tip Hair Brush has a firm backbone to create suds as you prepare the skin for a shave.
It's compact, but it holds enough foam to soften the beard.
On top of that, it's travel-friendly as it comes with a slipcase. Plus, the fiber doesn't become brittle like natural hair.
Pros
Soft, synthetic knot

Firm backbone

Non-slip handle

Travel case
Cons
Takeaway
The Satin Tip Hair Brush is a lightweight synthetic shave brush with a travel case. It has a dense knot of soft fiber with a firm backbone. The handle is non-slip rubber that'll be firm even when applying foam over a large area, such as your legs.
---
8. Muhle Silvertip Badger Bristle - Best Resin Handle
We have several handle designs in this synthetic shaving brush review, but this one stood out among other resin handles because of its firm grip and durability. The soft fiber has a stiff middle so that the soapsuds can spread over the skin evenly.
Its price is higher than other brushes we'll discuss, but a little splurge for quality isn't bad, right?
The Muhle Classic Silvertip Badger bristle dries quickly, as it's non-absorbent. That also makes it spread the foam fast, and its backbone gives you more control over it as you apply soap. Lastly, its compact size makes it a good travel accessory.
Pros
Durable handle

Voluminous foam

Dries fast

Non-irritating
Cons
Takeaway
The Muhle Classic Silvertip Badger bristle has a long-lasting handle and a backbone to control the fiber direction as you spread soap on the skin. It's compact, but it can do the work as a larger design. Though it's not natural badger hair, it's so soft and smooth you'll assume its natural fiber.
---
9. Aethland Shave Brush - Best Synthetic Bristles Kit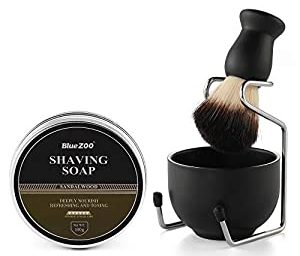 If you're looking for a brush that comes with soap, a bowl, and a stand, there's Aethland Shave Brush. The soft fiber combined with a durable mahogany handle creates a sturdy, effective hair brush. The soap in the package has a rich sandalwood scent, and it lathers well.
After lathering your face, you have a stand for your synthetic shaving brush so that it doesn't drip.
Pros
Complete shaving kit

Quality bristle fiber

durable mahogany handle

Soap inclusive
Cons
Takeaway
Aethland Shave Brush gives a complete kit with soap and a holder on which the synthetic shaving brush sits; thus, it doesn't drop into the cream. It has a mahogany handle that's durable and stylish.
---
10. Je&Co 3in1 - Best Steel Bowl and Stand Set
The difference between this kit and the one above is in the bowl set. It also has a steel bowl like the one above, but the holder is sturdier, so the synthetic brush won't drop in the cream.
Also, it has high-grade synthetic fiber similar to a badger hair brush. You'll even feel it's softer than natural fiber.
Plus, it's odorless even the first time you pull it out of the package.
You might find the bowl a little too small, but you don't need much foam anyway. Lastly, the dense fiber dries fast, and the price of the set is affordable.
Pros
Giftable

Easy to clean

Dense fiber

Affordable shaving set
Cons
Takeaway
The Je&Co 3in1 set looks stylish, like the kind you'd see on the counter of a barbershop. Plus, the fiber is soft but not so much that it doesn't create a rich lather. It makes a good gift for a loved one because it's a set.
---
There you have it! Ten choices that can help you switch from natural to synthetic today. Do you have a few more minutes as we want to discuss:
The Benefits of Synthetic Hair Brushes
After the synthetic shaving brush reviews, it's only fair to break down the features we talked about above so you can see what's there for you. Let's start with:
Synthetic Fiber Dries Fast
Who wants to wait for hours before storing brushes? We all want to clean up as soon as we shave, place all the tools away, and complete the usual moisturizer-aftershave routine.
Therefore, getting a brush that dries fast is the ultimate choice. That's what you get with synthetic fibers. Washing them takes a few minutes as once you rinse them and sling out excess water, they dry fast.
Stronger Fiber
It's possible to control the strength of these fibers in production, unlike the case with animal hair brushes, as they are straight from the source. As they manufacture these synthetic fibers, they don't have to worry about damaging their natural form.
They can be as creative as needed, and that's why some brushes mimic the size and shape of natural ones.
Plus, natural fibers break down faster because they have natural protein that weakens as it ages. With the engineering put into designing synthetic bristles, they are less likely to break.
More Hygenic
Since a synthetic hair brush dries faster, it doesn't create an environment for bacteria to grow. You can hang it on a holder so that it doesn't dry while on the counter to minimize contamination.
It makes such brushes travel-friendly as you can store them in your suitcase without fearing they'll mold. Plus, when they dry naturally, there's no risk of losing shape or being brittle.
A badger's hair, or the one from any other animal for that matter, may start decomposing when left in humid and unsanitary conditions.
Build Suds Fast
A boar shaving brush takes in a lot of water and soap; therefore, the lather may be thin when there's too much of either. On the other hand, a synthetic fiber doesn't absorb as much water, which eliminates the risk of messing up the water to soap ratio. Thus, it lathers better.
Plus, since these synthetic brushes are non-porous, they'll not absorb as much shave cream for safety razors and have you using more than you need or wasting it, for that matter.
It's Cruelty-Free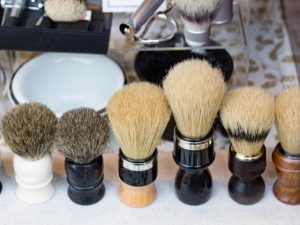 It's the first reason most people turn to brushes with artificial fiber like the
neck duster brush
to sweep debris off your neckline and face.
So that's why we had to remind you about it. You see, a lot of work goes into the search for pure badger brush, such as Edwin Jagger.
Sometimes, it may threaten this species. There's also the stress these animals get when subjected to the harvesting process. Going the synthetic way protects them from harm and means you care about their wellbeing.
Affordable
Boar bristle is more expensive than nylon fiber, so going the synthetic way will save you more money. The process of harvesting and refining the natural ones means the pure product attracts a higher price, yet you can get synthetic ones costing under ten dollars.
Non-irritant
If your skin is sensitive to animal hair, stick to the synthetic ones as they are soft and less irritating. It's also the best choice for beginners who don't know how their skin reacts to brushes.
Plus, you'll get them at a lower price, meaning it'll not be costly if you have to keep them away if they don't suit your skin. That's not the case with natural brushes, as some are pricey.
Can you now pick the best from the list we reviewed earlier? Before we conclude our discussion, here are answers to questions about synthetic brushes.
Frequently Asked Questions 
Are synthetic shaving brushes any good?
Yes, they are because they hold enough shaving cream for straight razors to cover the area you're shaving so that the straight razor reaches all shafts without causing cuts. Moreover, they have durable handles, and some come with additional features like a bowl and stand. The benefits listed above tell you what makes them better than natural hair.
If you want to know if synthetic brushes are viable, watch this:
Do You Need To Soak A Synthetic Shaving Brush?
No, it's different from natural hair, so there's no need to use water to soften the fiber. Even if you do, it's non-absorbent; as such, the water won't penetrate it. Since you don't need to soak it, you'll speed up the shave, especially if you do it every morning.
How long do synthetic shaving brushes last?
They can serve you for years or a few months, depending on maintenance. For example, when you rinse them and let them dry, they last longer. Additionally, brushes differ from one brand to the other. Consequently, some handles detach, and other synthetic brushes shed so much fiber that you replace them. But, when you get high-grade fibers, you use them for years.
How do you break in a synthetic shaving brush?
It doesn't need softening like boar hair as it stays the same even after years of use because the brand considers how soft the fibers are right from the production process. It's different from the natural ones because their quality varies from one animal to the other. However, you may notice that some synthetic brands smoothen with time, maybe in a few weeks or months.
So, which one should you buy?
The Verdict
The Anbbas 4in1 is the best overall. It has soft fibers that mimic the quality of pure badger hair, and the package is complete with soap, a bowl, and a stand on which to rest your shave brush.
GBS Shaving Brush is the best budget option. It not only saves you some money but also gives you an accessory that works with both soap and cream. It lathers well to protect your skin, and it does so in sturdy strokes with the fibers erect as you brush your face. So, now you have two ideas to get you started.