Shave creams are an individual thing. Everyone has their own taste for consistency of lather, fragrance, and style of shave cream.
However...
If you're shaving with safety razors, shave creams that aren't foamy or thick. Safety razors can be unforgiving compared to other trimming devices, and you don't want lather getting in the way. Else, you risk more cuts and nicks.
If you're in that boat, you should read our comprehensive safety razor shaving cream review.
You'll cruise past the sea of inferior products saving you time and money to find only the best moisturizing and refreshing shave creams. And our top spot goes to Taylor of Bond Street Lavender Lotion! 
Product
Details

1. Taylor Of Bond Street Lavender

Established In 1854

Top-Notch
Hydrating
Mild Scent
Brush Or Hand
7 Authentic Scents
Tub Lasts Long

Check Price On Amazon

2. Henry Cavendish Himalaya Shaving Soap

All Skin Types

Easy Preparation
All-Natural
Generous Lather
Natural Fragrances
Moisturizing

Check Price On Amazon

3. Proraso Shaving Soap In A Bowl

Trusted Brand

Protects Skin
Soothing Effect
Affordable
Comes With Bowl
Revitalizing Scent

Check Price On Amazon

4. Proraso White Range

Good Bang For Buck

No Parabens
Prevents Ingrown
Eases Irritation
Pleasant Smell
Economical

Check Price On Amazon

5. Van Der Hagen Shave Butter

Buttery Texture

All Beard Types
No Foam
Convenient To Use
Fresh Scent
Moisturizing

Check Price On Amazon
Top 5 Best Shaving Cream For Safety Razor
1.

Taylor of Bond Street Lavender

- Best Overall
Taylor of Bond Street (TOBS) has been a go-to shave cream for over a century till date. Surely, you won't expect anything less than top-notch quality from this brand. And TOBS delivers, but at a premium price.
Regardless, a peanut-sized lotion of TOBS is more than enough for a full shave with your safety razor. In turn, you get more shaves out of the tub compared to lower-priced shave cream of its size.
Most of all, the Taylor of Bond Street is neither thick nor light. It's smooth enough for a few passes with the razor without clogging up.
The first five ingredients are skin hydrating acids that do not pose any serious health risks.
However, one out of them, myristic acid particularly, is likely to trigger skin irritation if you have sensitive skin.
Nonetheless, its lavender scent is admirable. For a flowery perfume, it smells manly yet not overwhelming. You'll even get compliments if you don't wear a strong cologne. The seven other available fragrances of TOBS are also realistic and subtle. 
Pros
Mild scenting with authentic fragrances

Small serving makes enough lather for a safety razor

An impressive collection of fragrances to pick from 

Tub lasts long

Can be prepared by brush or hand
Cons
Not ideal for sensitive skin 

Relatively expensive
Takeaway
If you prefer using lotions, Taylor of Bond Street is easily the best shaving cream for double edge razor. The lather consistency is right where you want it, and it scents amazingly well.
---
2.

Henry Cavendish Himalaya

 - Best Shave Soap
Himalaya is arguably the best shave cream for a safety razor, at the very least, top 3 online. It's made in the U.S. with majorly moisturizing ingredients you can pronounce. The first three ingredients are glycerin, coconut oil, and castor oil, and it also contains shea butter.
Henry Cavendish Himalaya shave soap is easy to prepare with a brush. Before you use it, you'll need to microwave the bare soap puck in your own mug for storage. It lathers up easily and generously, but not over the top, which is excellent for safety razors.
Anyone can use this shave soap regardless of skin type. It uses natural moisturizers and fragrances. Speaking of which only carries a gentle smell if that's something you might like.
A safety razor would glide over the skin without fear of cutting yourself. Unlike other shave creams, it lacks alcohol, so if you cut yourself, it won't burn the nick. 
Pros
All-natural moisturizing ingredients 

Generous lather 

Natural fragrances 

Long-lasting soap
Cons
Requires a mug for storage 

Pricey 
Takeaway
If you want your skin as smooth and soft as a baby's bottom with a subtle scent after shaving, Himalaya is the best shave cream to use with your safety razor.
---
3. Proraso Shaving Soap In A Bowl

- Most Refreshing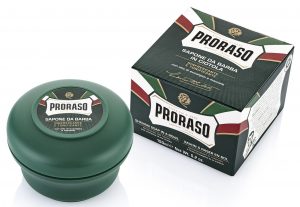 Proraso is a trusted brand known for affordable and functional products, like the Shaving Soap In A Bowl.
It's a super-convenient shave soap because it comes in a mug/bowl you can choose to use for preparation if you have none. But you'd still need to have your own brush.
The soap lathers up fine for smooth passage of the unforgiving DE blades. Although it has a light consistency, you may have to reapply lather while shaving, unlike TOBS.
Proraso has a refreshing superpower obtained from eucalyptus and menthol. Eucalyptus tones and protects the skin against bacteria while menthol soothes. Inhaling its scent every morning is so revitalizing.
Proraso Shaving Soap In A Bowl lasts a long time, give or take 6 months. And at its price, that's one hell of a deal. The catch is that it's not as effective when you near the bottom of the container. 
Pros
Affordable 

Plastic shaving bowl included 

Refreshing 

Little goes a long way 

Long-lasting 
Cons
Not everyone is cool with menthol

A plastic bowl may break easily 
Takeaway
The Proraso Shaving Soap In A Bowl is the best affordable safety razor shaving cream. The soap is easy on the skin and shaves with a minty vibe for anyone interested.
---
4.

Proraso White Range

- Best for Sensitive Skin

Although sensitive skin demands you try several products until you find the perfect fit, many have tried and tested the Proraso White Range shaving cream.
Before I reveal all its bells and whistles, you should know it contains menthol. So, if your skin burns up with menthol creams, you might want to look elsewhere.
White Range is easy to prepare with a brush and only requires a dime size or smaller paste to get things going. You'll see noticeable improvements with ingrown hairs after a few shaves.
It may come across as a promotion, but you will get even better results when you pair the cream with Proraso's pre-shave cream and aftershave balm.
The cream smells in a unique, pleasing manner. It sort of blends in with soaps, aftershaves, colognes, and other scents you might wear. The scent of green tea particularly stands out.   
Pros
Good bang for your buck

No parabens, SLS, or silicone

Eases irritation and ingrown hairs 

Easy to prepare
Cons
Takeaway
It takes some trial and error for folks with sensitive skin to find a befitting shave cream. But the Proraso White Range Sensitive Skin is your holy grail if you don't have to see reactions to menthol.
---
5.

Van Der Hagen Shave Butter

- Best for Convenience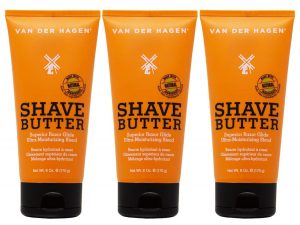 Van Der Hagen shave butter is literally rubbing butter on your skin before a shave. It prepares you for a smooth and pleasurable shaving experience without much of a lather.
The best part of using this low-lather shave butter is that it won't clog up your razor at all. But it can get sticky and messy if you aren't used to it. If that's too much to handle for you, steer clear.
However, the moisturizing and refreshing rewards of using Van Der Hagen Shave Butter are mouth watery. It's infused with macadamia oil, shea butter, cocoa butter, and mango butter.
These natural moisturizers are great for all beard types.
The butter makes a thin line over your face, which is easy for a safety razor to glide over without gonking up.
As you know, the shave butter won't lather up, you'd need to apply more to complete shaves. Consequently, you'd go through a tube faster than a shave soap or cream. You'll get a few months of use out of its cheap pack of three. It also doubles as an aftershave but is best as a safety razor shaving cream.  
Pros
No foam 

Good value buy

Instant moisturizer 

Fresh buttery scent
Cons
Contains nuts 

It's not transparent  
Takeaway
If you don't want to prepare a lather, but still want a smooth shave with a straight razor, Van Der Hagen Shave Butter is the way to go. It's low-lather and packed with quality moisturizers.
---
Tips In Finding The Best Shave Cream For Safety Razor  
Type of Shave Cream
Shave cream is perhaps more of an umbrella term. There are generally three shave cream styles, which include shave cream, shaving soap, and foams. 
1. Canned foam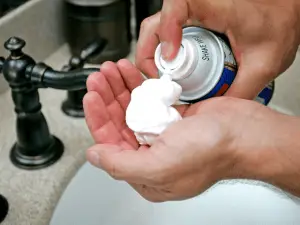 You've probably come across the pressurized cans of foam at your Walmart or local drug store.
One thing, foams are great for their convenience. You just spray on the content and shave away.
However, as far as safety razors are concerned, stay away from these kinds of shave cream.
For one, foam feels dry and not so enjoyable. More importantly, the consistency is too thick to shave with a safety razor. It gunks up the razor pretty fast and might also lead you to cut yourself more often. 
2. Creams
Typical shave creams are like entry-level protectors for your face if you are using safety razors.
As the name implies, you'll see them in the form of a lotion. But I'll also classify gel and butter under creams. You'll have to lather up with your hands or a shaving brush.
Unlike foams, creams have a thick or light variation you can select from. Also, most of them moisturize the skin and leave you feeling fresh afterward with a variety of fragrances.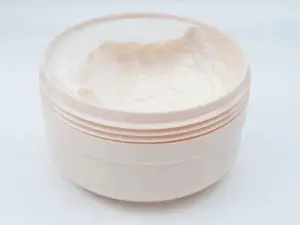 3. Soaps
Shaving soaps are the ultimate shave creams for a safety razor. They have been the go-to lather since the 19th century and remain the best choice.
Why?
Shave soaps hydrate and lubricate the hair while also giving you control of lather, which is excellent for safety razors like the best butterfly razor.
You lather the soap with a brush in a mug/bowl with a shaving brush to your satisfaction.
But that's where the only problem lies with shaving soaps. The cost of buying equipment and making a routine out of preparation and cleaning isn't attractive to everyone.
Accessories
I know I said a mug and shaving brush aren't attractive, but they are worthy investments. Essentially, you get the best out of your shave cream with the combo of these two, not applying with your hands.
Fortunately, you don't have to spend a fortune to get accessories. Well, it depends on your taste. For instance, you may prefer a premium quality horsehair brush. However, a cheaper badger-hair or synthetic brush would be just as effective.
Ingredients
Aside from the right style of shave cream, the ingredient list is a surefire way to know you've got a keeper.
Rockstar shave creams usually contain two or more natural oils for skin hydration. Some of the common ones are glycine, shea butter, and aloe.
Keep an eye out for ingredients that sound familiar at the top of the ingredient list instead of chemicals. Most inferior shave creams have chemicals as their first ingredients and can be harsh on your skin.
Avoid shave creams with the components listed below:
Sulfates (SLS & SLES)

Triethanolamine

Fragrance - especially from unknown brands 

Palmitic acid
Fragrances are more likely to cause skin irritation. So, it's better if its components are specified, not just jumbled up as "fragrances."
Making True Lather With a Shave Soap and Cream
Dampen
Wet the brush under running water or in a bowl. If you use a synthetic brush, give it two or three shakes before loading. On the other hand, you can just stand a badger, boar, or horsehair brush for a few seconds to drain it while getting the bristles soaked.
Excess water would flood into the soap puck and create a mess. 
Load
Loading refers to transferring soap or cream on the brush to make lather.
Now, brush over the top of the soap in brisk circular motions. Let the brush spread over the soap like a mop. You'll notice small bubbles as you brush.
Continue for about 6-10 seconds until bubbles are no longer visible. Alternatively, you can tell the brush is well-loaded by how far it has worked into the knot.  
Prepare
You can prepare lather in a bowl, on your hands, or directly on your face. For a safety razor, target a lighter consistency to allow the blade to cut smoothly. You can go thick for a trimmer or cartridge razor. 
In a Bowl
Use a bowl if you're a novice. With this method, you can start by making a dry lather, then add small amounts of water until it becomes too wet.
The goal is to understand the consistency you prefer as you lather up. Also, a dark-colored mixing bowl gives you a clear view of lather volume.
Your Palm
Simply stroke the brush-up and down the palm with your fingers closed. You can tell if the lather's slippery enough for your blade from rubbing your palm with the brush. 
Your Face
Preparing lather on your face; if done right, is not only fast but also efficient. You kill two birds with a stone - preparing and applying - while you're at it.
Work the brush over your face taking care not to get some in your mouth.
Practice each preparation method about five times each to gain experience and see which one you like better.
Apply
Finally, you can apply the lather on your face or wherever you want to shave.
A simple technique to cover the mustache and lower lip area is to draw your lips firm and brush as a whole.
If the lather is dry, add a drop of water (or more as you see workable) to the brush. Work the moist brush until your face is as wet as skates on ice for your blade.
Don't panic if you're new to wet shaving and can't seem to get the hang of the ritual. It could take you 50-100 shaves to master the art. 😉
To learn more lathering technique here's a guide for you:
FAQs About the Best Safety Razor Shaving Cream
Can you use Regular Shaving Cream with a Safety Razor?
Yes, you can. A safety razor can be used with any type of shaving cream vs soap, even with the best shaving cream for straight razor, as a lubricant and moisturizer. It's preferable to steer clear of canned foam. You'll experience fewer cuts and irritation with shaving lotion and soaps. 
What's the Best Shaving Cream for Sensitive Skin?
Proraso Sensitive White Range is the best shaving cream for you if your face doesn't flare up from menthol. It works magic against ingrown hairs, burns, and bumps after a few shaves. 
What About A Shaving Soap for Your Safety Razor? 
The best shaving soap for your safety razor is the Henry Cavendish Himalaya shaving soap. It's enriched with lush moisturizers like glycerin, coconut oil, and castor oil for a smooth and wet shave.
Himalaya also contains all-natural fragrances with a toned-down scent and are unlikely to trigger skin irritations.
Wrapping Up
That's a wrap on the best shave cream to use for your safety razor.
Don't forget to keep your lather as thin as reasonable. You don't want to block your razor's pathway or clog it up quickly.
Our top pick - Taylor of Bond Street Lotion - for whatever level of experience you have shaving as long as you want to look good, smell good, and get a clean shave.
For a more traditional soap-style experience, Henry Cavendish Himalaya shaving soap is a keeper.