If making customers happy is your business mantra, you need to invest in the best barber neck duster brush.
But, which features make the best duster?
There are so many features, but we'll focus on the ones that assure customer satisfaction. For example, we can't ignore fiber. Some brands like Marvy use boar fiber, while others use synthetic material.
So, as we look at the top brands, we'll always point out its fiber quality. In our reviews, the Diane Neck Duster D9850 ranked as the best neck duster brush for its soft hair touch feeling. Read on!
Best Barber Neck Dusters Reviews: 9 Top Picks
1. Diane Neck Duster D9850 - Best Overall
Its firm and comfortable grip make it easy to use at home, in a salon, or barbershop. As such, you can work with the contour of the face with the soft bristles reaching under the jawline to brush off unwanted hair. 
Further, Diane Neck Duster D9850 suits all hair types, so you'll not have traces of shaven clippings whether you have coarse or fine hair.
Since it has nylon bristles, it's so soft that you can brush sensitive skin.
Plus, it's affordable whether you're getting it for home use or as a tool for your barbering shop. Even its stand base gives it a professional look lined up next to combs and other hair care tools.
Pros
For home and professional use

For all hair types

Soft bristles

Nylon bristles

Stand base

Budget-friendly
Cons
Takeaway
The Diane Neck Duster D9850 dusts hair clippings of all hair types in soft strokes thanks to its nylon bristles, and you can use it on sensitive skin. Its self-standing base lets it sit on your barbershop counter within reach.
---
2. JewelryWe - Best Budget Option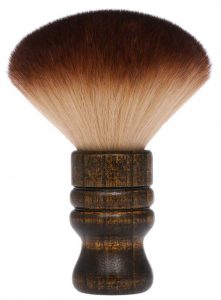 The last thing you want after a smooth shaving experience is to irritate your skin with a coarse accessory. 
Therefore, the JewelryWe hair cutting groomer has quality fiber as soft as goat hair, and it's lint-free.
It's a suitable tool for both a hairstylist and for a DIY haircut at home.
Further, it has thick bristles that withstand regular care. You can wash it in water, and it'll dry fast and retain its fluffy shape.
Pros
Easy to maintain

Budget-friendly

Thick, soft bristle
Cons
Takeaway
The JewelryWe hair cutting tool has soft fiber that doesn't miss any loose clippings on the face. It works in gentle strokes to prevent skin irritation. What's more, it's the best neck duster on a budget.
---
3. Anself Large Neck Duster - Best Natural Fiber
This brush is on our list because its natural fiber doesn't shed. Therefore, you'll not have a messy grooming process as with synthetic fibers.
Its size fits in your hand firmly without slipping as you brush hair clippings off your ears and on your neck.
Further, the Anself Large Neck Duster has a flat base to stand on a bathroom counter without rolling off. The combination of wood and wool makes it durable. Plus, these bristles are anti-static; thus, they wipe off all hair clippings with a few strokes.
This feature also makes it easy to clean since unwanted hair doesn't cling to the bristles.
Pros
Soft fiber

Handle made of wood

Anti-static fiber

Removes sticky clippings

For use with powder
Cons
Bristles too soft for some hair types
Takeaway
Wood is durable, so the handle of the Anself Large Neck Duster isn't one to break easily. What's more, its woolen bristles almost feel like hair; consequently, so you can use it on sensitive skin. It gets rid of all hair clippings on your face as it's anti-static, even though the natural fiber bristles are soft.
---
4. PerfectHair Barber Duster - Best Unique Design
It has a different design, so let's see whether it also comes with new features. First, the PerfectHair Barber Neck Duster Brush has soft but firm bristles that don't lose shape from continued use. 
Its shape resembles a fan, so it sweeps debris off your neckline and face.
The nylon bristles don't scratch your skin, and it has a self-standing base making it one of the best barber neck dusters.
Unlike other designs we'll look at, its handle is large, which gives more control over the brushing strokes. 
Further, it's a comfortable handle.
Pros
Removes hair with gentle strokes

A fan design sweeps hair clippings 

Large handle

Self-standing base 
Cons
It's pricey compared to other neck brushes.
Takeaway
The PerfectHair Barber Neck Duster Brush is one of the best neck brushes for barbers for its fan design that reaches more loose hair at once. Its long handle gives you control over the strokes, and even though its price is higher, its efficiency makes it a good deal.
---
5. VTrem - Best Durable Option
Your haircut process isn't complete until you wipe off shaven shafts. The VTrem hairbrush has black, soft nylon bristles; therefore, it won't irritate the skin on your face or neckline. 
The overall design makes it stylish for use in professional hairdressing. It's better than using a towel as it brushes the clippings onto the barber's cape so that you'll only vacuum a few clippings off the floor.
Plus, its silver aluminum handle is durable, meaning it'll serve you for a long time.
Lastly, it's sturdy even though it's lightweight. 
Pros
Durable silver aluminum handle

Lightweight design for lengthy use

Gentle on the face

Dense fiber

Has a storage bag
Cons
Takeaway
With moderate use and good maintenance, the fibers of the VTrem shaving brush serve you for a long time. It's the best neck duster if you're looking for a sturdy design with an aluminum handle and dense fiber that can even brush pet hair.
---
6. Anself Fan-shaped Hairbrush - Best Multifunctional Duster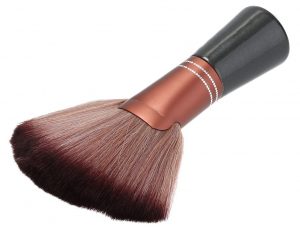 The Anself Fan-shaped Hairbrush has an appealing design that you'd not mind having in your barbering tool kit. It has a wooden handle attached to soft nylon bristles with a metallic pipe giving it a stylish design compared to other brushes in this review. These fibers have a silky touch on your face; thus, they won't prick your skin. 
The fan shape lets it sweep fast and efficiently, wiping off cuttings with minimal effort.
If you rarely dust after a shave, you can convert it into a cleaning brush for items in your home or office. These soft fibers can clean your keyboard nicely. They are also washable, and they dry fast, which makes this duster convenient. 
Plus, when it dries fast, it doesn't lose its shape. The Anself Fan-shaped Hairbrush has a vertical base giving it a professional design suitable for a barbering shop. It's an ideal size to dust off the neckline with smooth strokes.
Pros
Multifunctional

Washable fibers

It dries fast

Durable metallic pipe housing
Cons
Takeaway
The Anself Fan-shaped Hairbrush is thick and soft. It's suitable for dusting your neck and face, but it can also serve other functions, such as dusting off your keyboard.
---
7. William Marvy No.64 - Best Boar Neck Brush

The William Marvy No.64 is a handmade tool with each fiber selected, bleached, and boxed individually. Consequently, the fiber is tight, and it doesn't shed even as you wash it. 
These boar bristles are durable, and it's lightweight with a firm grip and control as you make wrist movements to reach your nape. You won't miss a strand.
It has a long handle shaped like a spindle for a firm grip without tiring your arm. This unique design also makes it a stylish tool. Who said you shouldn't have stylish-looking grooming tools?
The William Marvy No.64 is affordable, and its boar fiber is stiff to clear unwanted hair on your face or head with a few strokes. But, it might feel a bit too stiff if you're used to softer fibers.
Pros
Boar fiber

Long handle for easy grip

Affordable
Cons
The boar fiber falls off

It's too rough for sensitive skin
Takeaway
The William Marvy No.64 has bleached boar fiber that's easy to clean. It's affordable, and its long handle makes dusting easy.
---
8. Yebeauty Hairbrush - Best Large Brush
This affordable brush has a large wooden handle to reach behind the ears and under the chin, leaving no cuttings on your skin.
It's efficient, sweeping all the hair even if you have coarse or thick shafts.
The downside of using a Yebeauty Hairbrush is that hair sticks on the fiber such that you transfer it back on your skin.
Pros
Large, long handle to reach the back of your neck

Soft fibers that don't hurt sensitive skin

Clears dense hair
Cons
Loose hair sticks on it

The fiber isn't stiff
Takeaway
Yebeauty Hairbrush is unique since it has a long handle that lets you reach all around the beard or the back of the neck after a haircut. Being a large duster means it has more, longer fiber too.
---
9. Borogo Hair Sweep Styling Tool - Best Professional Option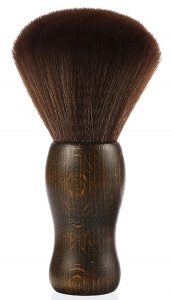 Are you a barber looking for a brush you can use on clients? The Borogo Hair Sweep Styling Tool smoothens and styles after a haircut. It's comfortable in your hand, thanks to its wooden handle that feels good and is lightweight. 
Further, it's easy to clean because its fiber doesn't retain loose hair. It's also one of the reasons it's efficient as hair doesn't stick on it. Therefore, you'll take the least time cleaning up after cutting or trimming hair. The fibers are soft; thus, you can use this Borogo brush on clients with sensitive skin.
This brush has a stand base that'll let it sit on the counter of your barber station. It won't fall apart, leaving you with fibers lying all over the place. On top of that, this dusting tool has a clean smell without the chemical odor of most new brushes.
Pros
Soft bristles

Doesn't shed

Lightweight

Wooden, firm handle

For professional or home use
Cons
No storage case for a barber

Too soft
Takeaway
This duster from Borogo suits barbers because it has a stand base, a wooden handle for a firm grip despite the duration of the chore, soft bristles, and it doesn't shed.
---
Which one would you like to add to your accessories? Or, would you prefer to match it to your shaver or trimmer, say, get one suited for an Andis trimmer?
Popular Questions About Barbers Neck Brush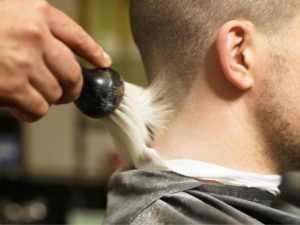 What Is The Best Neck Duster Brush?
The Diane Neck Duster D9850 is the best to dust your face, ears, and neck. This hairdressing tool like a synthetic shaving brush adds a professional touch compared to wiping a customer's face with a towel. We'll talk more about it shortly.
Are Neck Dusters Illegal?
Yes. Most states warn against their use because poor maintenance creates an environment for bacteria growth. For example, California has strict guidelines on how to use this tool.
A barber should remove the debris like when maintaining razors. Next, the state instructs that a barber should clean the dusters with soap and dry them. Further, all used dusters should be in a container labeled dirty or contaminated. It's illegal to use it in states like New York, and in other places like Arizona, you get a fine for using a dirty duster.
Can You Sanitize Neck Dusters?
Yes, you need to disinfect them because the clippings on them may bring bacteria from the face. Plus, your face has oils and grooming products residue that'll be on the shaven hair. Thus, the residue will stick to the fiber, and with time, harbor bacteria. 
Plus, if you're using barbers' neck brush dusters on customers in a salon or barbershop, you must sanitize them after use. It's not an arduous process. You can spray a sanitizer to sterilize it in a few minutes, then wash it at least once a day after use. Shop for a neck duster brush that's easy to clean.
This video will tell you how to clean the brushes and combs when shaving:
Final Thoughts
The Diane Neck Duster D9850 is our best pick for both hairdressing and shaving at home. It's a hairbrush with sturdy, black fiber. It makes cleaning afterward easy, as you can use it outdoors instead of filling your hardwood floors with loose clippings. On top of that, it has a self-standing base, so the fiber doesn't lie flat on a salon table.
If you'd like to cut your spending by a few more dollars, go for JewelryWe hair cutting duster as it leaves your face smooth. You can get it as a gift card for a loved one.