Shaving can be fun and exciting. Has it been more of a chore to you?
Well...
The first step to making it more exciting is getting a razor you like. Secondly, make the process pleasurable and less painful. I'm talking about nicks, razor bumps, irritation, and such nasty stuff.
First, let's talk about the razor, then we can discuss some tips for better shaving.
We've rounded up the top brands for you. As we list them, we'll start with the Vikings Blade The Chieftain as it fits the rank of the best butterfly safety razor. Let's look at:
Product
Details

1. Vikings Blade The Chieftain

Effortless Shaving

Quick Blade Change
No Fuss Cleanup
Great For Newbies
3 Color Options
With Razor Blades

Check Current Price

2. Weishi Nostalgic

Excellent Grip

Heavy Brass
Lightweight
With 5 Blades
Durable

Check Current Price

3. Shaving Revolution

Precise Shave

Leading Brand
With 10 Blades
Close Shaving
Great Design

Check Current Price

4. Merkur Long Handled MK 23C

No Razor Burns

Straight Cut
Fixed Blade Gap
Long Handle
Non-Slip Handle

Check Current Price

5. Zomchi Safety Razor

Closed Comb

Quick Blade Change
Sturdy Frame
No Ingrown Hair
With 5 Blades

Check Current Price

6. King C. Gillette Razor

Luxurious Look

Edging Is Easy
Chrome Finish Handle
Great For Newbies
Pricey

Check Current Price

7. Vikings Blade The Godfather

Worth The Price

Sensitive Skin-Safe
Prevents Nicks
Swedish Blades
Pricey

Check Current Price

8. Bambaw Double Edge Safety Razor

Bamboo Handle

Double Edged
Close Shave
Less Clogging
High Maintenance

Check Current Price

9. Edwin Jagger

Sleek Looking

Famous Brand
5 Color Options
Blades Inclusive
Close Shave

Check Current Price
Butterfly Razor Reviews: 9 Best Picks In 2023
1. Vikings Blade The Chieftain - Best Overall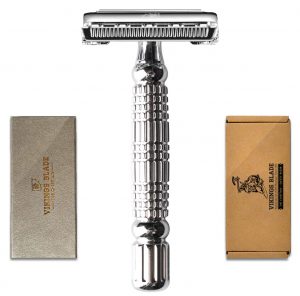 We ranked it as the best overall because it's up to 200% heavier than other razors to give you sufficient pressure as the blade glides. You'll have such an effortless shave.
On top of that, the head's even weight distribution gives you effortless short strokes.
It'll take you about 5 seconds to change your blade, something to make your mornings less hectic.
Further, it's an easy maintenance razor that you only towel dry regularly.
Vikings is a renowned brand, and you have three types of Chieftain razors. If you'd like to keep things simple, choose chromium silver, which is The Chieftain we're talking about here.
Other pricier options are obsidian with rose gold and vintage bronze with a touch of ancient dust.
Lastly, The Vikings Blade The Chieftain has a short handle to maneuver your beard swiftly. The razor blades are inclusive, which eliminates additional costs.
Pros
Three color options

Renowned brand

Suitable for beginners

No irritation
Cons
Takeaway
The Vikings Blade The Chieftain is easy to use, easy maintenance, and takes about five seconds to change your blade. What's more, it's a simple three-piece razor that you twist to open.
---
2. Weishi Nostalgic - Best Budget Option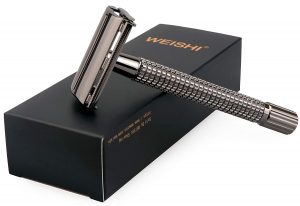 If you're looking for a quality razor that's affordable, the Weishi Nostalgic Long Handle safety razor fits that description.
More so, it's lightweight, an essential feature if you prefer to have control over the shaving pressure.
Another feature you'll love is that it comes in a package with five stainless blades.
Plus, it's durable, made of heavy brass.
Also, the Weishi Nostalgic Long Handle has an excellent grip for control of the shaving process.
Pros
Durable

Lightweight

Budget-friendly

Five blades inclusive
Cons
Not suitable for close shaving
Takeaway
The heavily-textured handle of the Weishi Nostalgic Long Handle razor prevents it from slipping when your hands are wet, and you can twist it open fast to replace a blade.
On top of that, this butterfly safety razor has a stunning gunmetal finish that distinguishes it aesthetically from other brands. You know, it's also budget-friendly.
---
3. Shaving Revolution - Best Razor Blades Package
Most brands give you just five razor blades. Well, the Shaving Revolution Long Handle Razor knows you're looking for something long-lasting, so they double that number.
They give you ten stainless steel razor blades. Stainless steel is a durable material that's also firm — and that's what we have in this one.
This razor is also more budget-friendly than other designs in this review. Additionally, expect a precise shave; one that's smooth and without any irritation.
It's also from a leading brand in men's grooming products - Viking Revolution.
Pros
Close shave with no cuts

Beautiful design with gunmetal finish

Knurling pattern on the handle for a firm grip

A package with ten blades

Heavy enough for balance

Durable stainless steel blades
Cons
May not shave coarse hair
Takeaway
The Shaving Revolution Razor is affordable, and it gives you a precise shave without nicks or irritation. The package comes with ten stainless steel blades to serve you for many shaves.
---
4. Merkur Long Handled MK 23C - Best Lightweight Option
A heavy butterfly safety razor lets you reduce the amount of pressure to prevent cutting too close. You only need to place it on your skin and let it glide naturally.
However, a lightweight razor prevents even the need to exert pressure in the first place.
That being so, we ranked the Merkur Long Handled MK 23C as the best lightweight option as it glides over your beard for a straight, close cut. Its elegant non-slip handle makes movement easy during wet shaving.
Pros
Straight cut razor

Fixed blade gap

Long handle

No cuts or irritation
Cons
Takeaway
The Merkur Long Handled MK 23C has a stylish knurled handle that gives you a firm grip. It doesn't cause razor burns because of its straight bar, closed comb head.
---
5. Zomchi Safety Razor - Best For Easy Blade Replacement
As a closed comb razor, it gives you a balanced grip for even shaving. Also, it has a long, non-slip handle for extra safety as you glide it over your skin.
The Zomchi Safety Razor comes with five long-lasting blades, each serving you up to six shaves. We ranked it as the best for its easy blade replacement process.
It takes you a few seconds to unscrew the head, load the blade and tighten the head to the grip.
Pros
Easy to use

No razor burns or ingrown hairs

A sturdy frame

Easy to clean
Cons
Takeaway
The Zomchi Safety Razor comes with five blades made of stainless steel. It has an easy blade replacement process, and it's easy to clean. Further, it makes an excellent gift item.
---
6. King C. Gillette Razor - Best Heavy Razor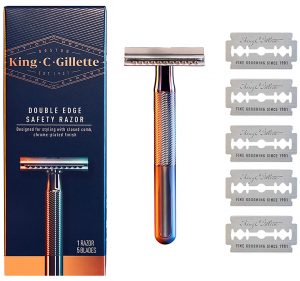 You know, the amount of pressure exerted as you shave controls how close you shave. It may also contribute to nicks.
For that reason, the King C. Gillette razor glides on its own without the need for additional pressure.
At a 30-degree angle, edging your sideburns and beard lines is easy.
Pros
Stainless steel blades

Five blades

A chrome-finish handle that's durable

A close comb head

Luxurious design
Cons
Pricey

Handle may be slippery
Takeaway
The King C. Gillette razor comes from a renowned brand, so you're getting outstanding quality. If you're a beginner, you'll love the control of this heavy razor. It'll do the work for you; glide it over your beard or body hair gently.
---
7. Vikings Blade The Godfather - Best Elegant Design
Remember how we started by saying shaving shouldn't be boring?
Well, here's a blade that brings a luxurious feel to the process. Since it's our third Vikings razor in this butterfly safety razor review, it proves this is a brand to watch.
As is the norm with Vikings Blade razors, there are color options, either chrome or ancient steel. On the downside, you'll spend a little over the standard rate for a double-edged razor to enjoy the Vikings Blade The Godfather.
But, since we're only spreading positive vibes in this review, let's focus on the highlights that make it worth that price.
Its chrome-colored design has a heavy-duty design made of steel. Plus, it comes with a pack of Swedish steel blades that are mild to prevent nicks.
Pros
An extra mild head

Heavy-duty steel design

Suitable for sensitive skin
Cons
Takeaway
Vikings Blade The Godfather is a heavy-duty razor but with extra mild blades for a shave that isn't too aggressive. That makes it suitable for beginners and people with sensitive skin.
---
8. Bambaw - Best Eco-Friendly Design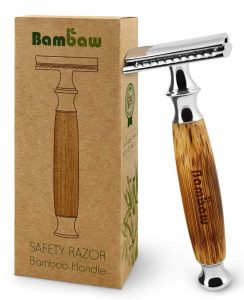 Here's your chance to own a double-edged safety razor with a bamboo handle, the Bambaw. Quite interesting, I must say.
In addition to being eco-friendly, which other benefits does it offer?
For starters, Bambaw is durable, for it has stainless steel parts. The bamboo handle also makes it sturdy.
As for its shave, you can go as close to the skin as possible without nicks.
Pros
It's heavy for an effortless shave

Eco-friendly

Durable parts

Less clogging
Cons
Takeaway
Bambaw's bamboo handle differentiates it from other models and also makes it stylish. It's heavy, sturdy, and it has a fair price for such a design. What's more, Bambaw shaves close without cuts.
---
9. Edwin Jagger - Best Simple Design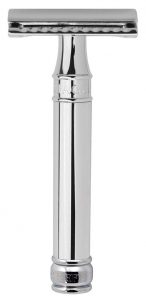 If the artistic Bambaw design above sounds too stylish, there's the option of a simple razor from Edwin Jagger.
There are over five color options, from black ivory to red, and the one we're reviewing comes in chrome. Also, it has a regular handle, with other design options being a long or short handle.
This razor has a forgiving head that guards your skin as you find a proper shaving angle. Blades are inclusive, meaning you can start shaving as soon as you get your package.
The only thing to look out for is the smooth handle, as it gets slippery when wet shaving. It might help to have a piece of cloth around to dry your hands.
Pros
Sleek design

A variety of colors

Famous brand for its grooming products

Commendable balance for a close shave

Durable design
Cons
Takeaway
When your purpose is to groom your beard or legs, you're more interested in the quality of the razor and its blades. That's why a simple design like the Edwin Jagger butterfly safety razor may be a priority.
---
In the introduction, we mentioned that for an exciting shaving experience, you need the best butterfly razor and tips to use it right. So, we're on it next!
How To Use A Safety Razor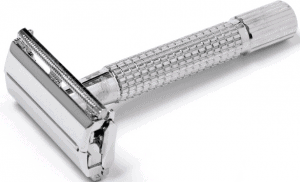 This simple process will have you shaving more often.
Shower or wash your face with warm water to soften the hair.

Apply a pre-shave oil for extra protection against irritation.

Hold the new blade by its sides to twist it open.

Place the razor blade in the chamber.

Shake the razor slightly for the blade to sit in the chamber. It should be centered.

Twist the bottom of the razor to close the blade's chamber.

Apply the 

best safety razor shaving cream

to your beard generously.

Wet your razor, then hold it by its tip and pass the blade over the beard, using minimal pressure. The razor should be at a 30-degree angle as you shave in the direction of hair growth.

Dip the razor in water whenever it gathers gunk. If hair clogs your blade, open the chamber a little by twisting the handle, and rinse it.

Hold the skin below taut, on your jawline, or under your nose as you glide the razor in short strokes. 

Wet your face before a second pass, and apply shaving cream again.

Rinse your razor, then dip it in rubbing alcohol to prevent rust. Wash all other equipment used, such as the brush used to apply shaving cream.

Apply after-shave, then hydrate your skin with a facial moisturizer.
It'll take you a short time to master these steps. Here's a reason why you should switch to safety razors:
Popular Questions About Butterfly Safety Razors
What Is The Best New Twist-To-Open Butterfly Razor?
Established brands like Vikings Blade and Edwin Jagger build on their previous designs. Hence, the Zomchi Safety Razor fits the rank of the best new butterfly razor on the market. It has a closed comb head to reduce irritation, and it takes you a few minutes to change the blade. 
Are Butterfly Razors Good?
Yes, they are, for the following reasons,
They are cost-effective as you only change the blades when necessary without disposing of the handle.

They have a lower irritation risk as they have one razor blade only.

They are heavy for a close shave without too much pressure.

The blades are sharp.

Blade replacement is easy using the twist-to-open mechanism.
What Is The Best Butterfly Safety Razor?
Based on our review above, the best butterfly razor is the Vikings Blade The Chieftain. Why? Read our conclusion below.
The Verdict
The Vikings Blade The Chieftain is an original design, one of the first double-edged razor designs. Secondly, it's a heavy razor, which makes it safe for beginners as they just let the blades glide over the skin without exerting additional pressure. Also, it has a striking chrome finish, and the package comes with mild blades.
But, if you're looking for excellent functionality at a cheaper cost, choose the Weishi Nostalgic Long Handle. Since it's lighter, it's for seasoned users who can glide it smoothly without adding too much pressure.