Black men need the best beard products to make their grooming sessions smooth and efficient. After all, taking care of thick, curly beard hair is complex and requires extra caution because of its dryness.
Having said that...
For all your styling, trimming, and grooming needs, the Philips Norelco Multigroom Series 7000 is a must-have product for any black man and our best overall.
If you are looking for other great beard products, we have selected various options to tame your beard.
The Best Black Man Beard Care Products Reviewed
1. Philips Norelco Multigroom Series 7000 – Best Overall
Beard trimmers are a black man's best friend when it comes to grooming beards of all kinds. The Philips Norelco Multigroom Series 700 Grooming Kit offers the necessary versatility you need to style your beard.
This beard trimmer uses a high-powered motor and fine blades for clean, precise shaving with its professional and ergonomic design. It offers you  23 different attachments meant to cut the thickest of beards and thinnest of stubble.
This device incorporates high-end stainless steel in its design that gently lays in your hand.
Similarly, the product's slender build gives you complete control to easily glide along your jaw, chin, and upper lip.
Its high-end lithium-ion battery lets the machine run for about 5 hours and features quick charging capabilities. You can also bring this beard trimmer anywhere since the device is waterproof and doesn't rely on blade oil.
The Multigroom Kit is a powerful, all-in-one tool that can quickly adapt to your preferences and can style your beard for a lifetime.
Pros
Includes 23 attachments for versatile grooming

It lasts 5 hours with quick charging capabilities 

Slender build for maneuverability

Uses stainless steel for comfort

Waterproof
Cons
No adjustable sliders on attachments
Takeaway
The Philips Norelco Grooming is ideal for any black man's curly, thick beard. Regardless of what aesthetic you want, this device's assortment of attachments can give you your perfect trim.
---
2. Shea Moisture Beard Wash – Best Value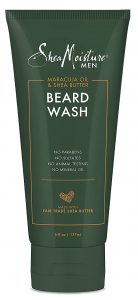 Nothing is more pleasant than a clean and healthy beard. The Shea Moisture Beard Wash infuses natural maracuja oil and Shea butter, which keep your beard nourished and moisturized.
This lightweight gel cleanser is a top-rated grooming product for black men that thoroughly cleanses your beard and refreshes your skin.
The wash enables deep and thorough cleaning that removes any dirt and filth while being gentle on each hair strand.
A dime-sized amount of Shea Moisture can cover your jaw, mustache, and down to your neck. Although the cleanser washes off unwanted particles, it makes sure to leave out essential, natural oils on your face.
You also won't have to worry about tough odors as this beard wash comes with a light, refreshing scent that is gentle on your sinuses. Each wash will keep your beard free from soot and helps maintain a neat, classy appearance.
Pros
Gentle on skin and ignores natural face oils

Cleanses thoroughly

Infuses all-natural maracuja oil and shea butter

Light, refreshing scent

Very affordable
Cons
The smell may be "too old" for some

Usage pump is too small to work
Takeaway
The Shea Moisture Beard Wash maintains a reputation among the best beard products for black men with its unmatched cleansing. If you want a thorough wash and the best value, then this is a product for you.
---
3. Viking Revolution Beard Conditioner – Best For Dry Skin
If you have trouble with dryness and beard growth, the Viking Revolution might be the answer to your problems. Professionals formulated this product to make your beard cleaner, softer, and smoother.
As a black man, you might have trouble with itchiness and irritable skin. This beard conditioner uses natural ingredients such as jojoba oil to nourish your skin and hair follicles. It also assists with eradicating any flaky sections of your beard.
The product contains plenty of antibacterial properties that don't leave any oily residue.
In addition, the beard conditioner's jojoba oil has properties that help treat skin illnesses such as psoriasis and bumps.
With just a tiny dab of the Viking Revolution beard conditioner, you can say goodbye to dry skin and beard. Grooming becomes a whole lot smoother with this product, making your ideal beard easier to achieve.
Pros
Helps with healthy beard growth

Removes itchiness and skin irritation

Uses natural ingredients for deep moisturization

Good lather with small amounts

Has antibacterial properties
Cons
Has overpowering menthol smell

Usage pump is too small
Takeaway
The Viking Revolution Beard Conditioner will let you grow a full beard and keep your skin moisturized as well. It is the perfect choice for a black man with curly and dry facial hair.
---
4. Wild Willie's Beard Butter – Best For Easy Styling
Styling your beard can be a bit difficult when it is messy and unwilling to cooperate with you. The Wild Willie's Beard Butter solves many of your grooming problems with little to no effort. It is the ideal product for untamed beards that need to be smoothed and controlled.
This beard butter utilizes only organic ingredients such as jojoba, argan, apricot, and castor oils.
It also incorporates emu oil, letting the product seep into your hair and gives it a slight hold. These ingredients keep your follicles moist and easy to manage.
The product essentially keeps your beard in place and lets you shape each strand as you please. This beard butter is an essential item for black men who wants a coarse texture that improves their appearance.
It also actively participates in hydrating your skin with each use. This process gradually makes your facial hair softer and neater over time. Style your beard in any direction you want, and this product will make it practical and accessible.
Pros
Features a soft hold for a quick grooming

Moisturizes your skin and beard

Very easy to apply

Provides a manly, coarse texture
Cons
Includes overpowering smell

Leaves behind unwanted residue
Takeaway
The Wild Willie's Beard Butter makes it to our beard product reviews for its efficiency in beard management. Any styling trouble with grooming you have will virtually disappear because of this beard butter.
---
5. Honest Amish Beard Oil – Best All-Rounder Formula

The Honest Amish Beard Oil is one of the best beard products for black men out in the market today. This product sticks out from the rest for its all-natural and organic ingredients. It includes moringa oil, sweet almond oil, virgin pumpkin oil, and five other essential oils.
This beard oil conditions different types of hairs and hydrates your beard.
Not only does it make your beard look smooth and shiny, but the product also moisturizes the skin. It also doesn't include any artificial chemicals, which make it safe and vegan-friendly.
The product's formula contains vitamins, minerals, and even antioxidants to help with beard growth and prevent itchiness. You can rest assured that this beard oil will stop dandruff and contribute generously to your grooming.
Honest Amish also promotes an elegant cedarwood and clove scent that accompanies plenty of masculinity for your beard. While it may not wholly reduce stray hairs, beard oil can soften even the curliest and thickest of beards.
Pros
Soften the beard and skin underneath

Uses organic and all-natural ingredients

It gives your beard a neat shine

Light smell that fades away

Assist with skin conditioning
Cons
Not ideal for very tangled beards
Takeaway
What's an all-natural product that helps with grooming, growth, and overall aesthetic? The Honest Amish Beard oil makes it to this list for its various functions and professional formulation.
---
How To Grow Your Beard Quicker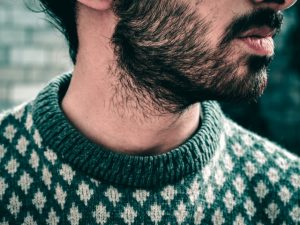 You might be trying to grow a large and thick beard after trying a few products. It can be very challenging for some men to develop a full beard in a short period.
While everyone has their separate beard growth dilemmas, we compiled a few ways to make the process faster.
Patience Is Key
Everything takes time, especially beards. Your beard might not be growing because you're too young or don't have the genetics for it. Whatever reason it may be, you will need to be patient all the same.
Even if the beard hairs become too itchy and annoying, you just need to restrain yourself. After a few weeks of waiting, your beard will likely become significantly fuller. Otherwise, you might want to visit a professional for the best beard growth products and advice.
Exfoliate
Exfoliating can do a lot for beard growth and improve your skin condition. Try to clean, exfoliate and moisturize your face daily. Some of the products in our reviews might be what you need.
You can also remove any dead cells on your skin's surface, which may hinder beard growth. Exfoliation cleans many of your pores and stimulates your hair follicles. 
Wash Your Face Regularly
Your daily activities may cause your face to gather all sorts of dirt. Ensure to wash your face regularly and keep your skin clean with warm water and a facial wash. If you already have facial hair, you should wash your jaw, lips, and neck with a beard wash.
We also suggest that you use the Viking Revolution Beard Conditioner, which increases beard growth. In addition, it contains antibacterial properties that take care of dirt on your facial hair and skin. 
Diet
A proper diet benefits just about everyone; For beard growth, good nutrition is even more critical. Following a schedule of balanced meals will keep your beard and body healthy. Since obesity lowers testosterone for beard growth, you should have a good diet.
Foods rich in zinc, protein, and iron will helps increase testosterone levels and increase beard growth. Bear in mind that a balanced diet doesn't give instant results and needs discipline and restraint.
Here is an educational video on how the body absorbs nutrients:
Products You Should Use To Grow Your Beard Thick & Healthy
There are certain kinds of products that you should look into if you want a thick and healthy beard. Fortunately for you, our beard product reviews gave you an idea about the best black man beard care products.
However, we also summarized each product category to consider for beard grooming.
Beard Wash
Beard washes, also known as beard shampoos, are vastly different than your typical shampoo. Regular shampoos tend to scrape off essential oils that might leave your beard itchy.
In contrast, a good beard wash will gently hydrate and nourish your skin while keeping all the natural oils on your hair strands. Your beard will feel significantly healthier as beard wash products remove dirt, soot, and other unwanted matter. 
Beard Conditioner
Beard conditioners are vital when it comes to proper beard care. As a black man, you want to nourish and moisturize your beard since dryness may occur. Thick, curly beards are especially prone to damage and require beard conditioners for maintenance.
Beard Butter
Beard butter primarily takes care of the skin around your beard area. People often neglect to maintain suitable conditions atop burly beards. Many beard product reviews will tell you that beard butter combines nutrients and oils that keep your skin healthy.
A good skin foundation naturally promotes plenty of beard growth with the use of beard butter. These types of products make the process of styling your beard incredibly simple and significantly smoother. 
Beard Oil
Similar to beard conditioners, beard oil moisturizes both your skin and beard. In addition, these products commonly leave a nice shine on each beard strand. Good beard oil might contain almond oil, argan oil, and a blend of other essential oils in one all-natural product.
It is also worth mentioning that beard oil helps with beard strength, repair, and a coat of protection. If you want to achieve the dream beard aesthetic, choosing a good beard oil will be worth your while.
Beard Trimmer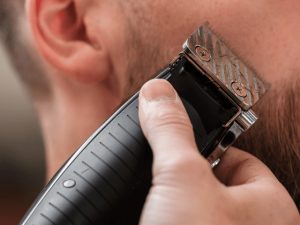 Beards can grow into a dense, curly mess of hair without the use of a beard trimmer. As its name may suggest, a beard trimmer will let you style your beard to your preferences. These products commonly include different attachments for various beard lengths.
Step-By-Step Guide To Maintaining A Nice-Looking Beard
You might not know where to start in your beard grooming journey. Luckily for you, we made a brief step-by-step guide to ensure that your beard is in good condition.
Grow it out. Naturally, you will need to grow a sizable beard to maintain it. Although it may feel unnatural, messy, and awkward during the first few weeks, let your beard grow to your desired length.

Use a beard trimmer. After you grow your beard, you will want to grab your best beard trimmers with vacuum and start styling it. You must take your time trimming your beard for the best results. The Philips Norelco Grooming Kit has the necessary attachments for your various styling needs.

Wash and rinse. Tiny particles of dirt tend to accumulate between the fine hairs of your beard. Although you can't see the accumulated dirt, you should still use beard wash and frequently clean your beard to prevent itchiness.

Invest in beard conditioners. Beard conditioners play a vital role in softening your beard hair and giving it that smooth texture. Ensure that you exfoliate and rub the beard conditioner gently on your face.

Don't forget the beard butter and beard oil. Beard butter and beard oils can work hand in hand to remove any flaky textures on your beard. These two products nourish your hair and skin, giving it that classy and neat aesthetic.

Comb it up. Use a nice tightly knit comb to refine the strands on your beard. This process will help your beard look fuller and well-kept.
Frequently Asked Questions
How long does a full beard take to grow?
In most cases, a full, healthy beard takes about four months to grow. Genetics is a huge factor that affects the rate of beard growth. Some men can grow half an inch of facial hair per month, while some can only produce about a quarter-inch per month.
When should I trim my beard?
You should groom your beard at least once every 2-3 weeks for the best results. If you desire to stay at a particular length, then trimming your facial hair is necessary for maintenance. Similarly, your beard might start to look messy when untrimmed. Consider trimming strands of facial hair that make your beard look cluttered and awkward.
Final Thoughts
The best black man beard care products are the foundations of the dream beard aesthetic. A few minutes a day is all that you need to maintain a good-looking beard.
The Philips Norelco Multigroom Series 700 Grooming is a bearded man's multifunctional best friend. With this product, you can trim, style, and shave your beard to any length.
On the other hand, the Shea Moisture Beard Wash also compliments your rinsing and cleaning needs at any time.
You, too, can achieve the ideal beard aesthetic with the right products and enough care.