If you're anything like me, you will enjoy the thrill of trying out a new hairstyle every week. Some people have assumed that I regularly alter my natural hair, but the truth is that I only use hair weaves.
However…
Regardless of how good the weaves were, some of them didn't match my natural hair perfectly. Even though my hairstylist was in charge of correcting the problem, I was always fascinated by the hair weaves. So I did some research.
Therefore, I'll be discussing everything there is to know about hair weaves and weaving techniques in this article. So, keep reading!
What Is A Hair Weave?
Hair weaves are natural or artificial hair extensions added to the human hair to bulk up the volume and length of such hair. 
The first-ever hair extensions were traced back to Cleopatra in 3400 BC.
During this time, wigs were made from human hair, vegetable fibers, or dyed sheep's wool. They were either braided into the hair or attached using beeswax. This brought the invention of hair weaves. And since then, its use has skyrocketed among various globes and tribes, particularly the black community.
Hair weaves differ from wigs because they are sewn into the hair and not worn like wigs. You can integrate them into your hair using various hair weaving methods that I will be discussing later in the article.
Types Of Hair Weaves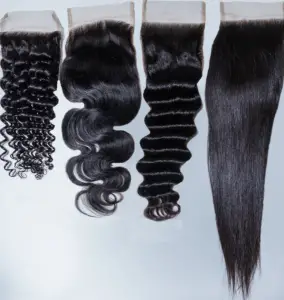 Hair weaves used to be made of vegetable fibers and sheep's wool, but that is no longer the case. So, let's take a look at the most popular varieties of hair utilized in today's weaves.
Synthetic Hair
As the name implies, these are artificial chemically processed microfibers used to make hair weaves. They are the cheapest available fibers; however, they can't withstand heat. Thus, any heat treatment would cause them to deform and shrink. Otherwise, you could still get quality synthetic hair that could be mistaken for human hair but ensure you don't use heat on them.
Human Hair
These hairs are gotten from human donors and often replicate your hair. They are easy to use as you could do to them whatever you do on your own hair. They can tolerate heat; however, they're expensive to get. Who cares, though? Human hairs are worth it for the high quality they provide. 
You can further divide these human hairs into two categories:
Virgin Human Hair
Virgin human hair is gotten directly from the scalp of a single donor and has not undergone chemical treatment yet. This makes it more durable and withstands much heat compared to normal hair.
Remy Hair
Remy hair is obtained directly from the scalp of different human donors, with the cuticle still intact and has undergone various chemical treatments. 
This makes them less durable than virgin human hair. Nevertheless, they are tangling and shedding-free.
Different Human Hair Weaves Texture
It's not always necessary to distinguish between virgin and Remy human hair. You may categorize them based on the human donor's nationality or origin in such a situation.
This is a great way to classify human hair because people from different countries have varying hair textures and quality.
Brazilian Hair
This hair is famous for its thickness, softness, and durability. Therefore, making it the best choice for any weave style - curly, straight, or wavy. You can find them commonly used by Africa's southern and western sides.
Due to the thickness of Brazilian human hair, it doesn't frizz easily, and using fewer bundles would do just the perfect job. 
It further has a natural shine. If you aim to color this human hair, you should go for the virgin Brazilian human hair. This allows you to apply such color dyes to it without damage.
Vietnamese Hair
This hair is known for its purity and power. It has a thicker texture than most other hair types, which gives it an excellent grip. Vietnamese hair texture is similar to that of most women. Thus, you can rock it whether your hair is wavy or straight. Because of the diet's simplicity, the hair is soft and silky. It can also keep curls in place fairly effectively.
Peruvian Hair
One thing that makes Peruvian hair stand out is its versatility. This enables you to style it just the way you want or desire. It is also very soft and durable, so you don't have to worry about ruining it when styling it to your taste.
It is silkier and thicker when compared to Brazilian hair. It is also rarer, so it's costlier than most hair weaves. 
Malaysian Hair
This is another famous human hair on the market. This is the hair for you if you want sleek hair with a lot of shine. The shine fades with a few washes, and the gloss returns to its natural state. It's silkier and softer than other types of hair. It has a dark brown hue and holds your curls flawlessly. 
Even in humid situations, its structure does not alter. Malaysian hair is not known to frizz out.
Indian Hair
Indian hair is most often gotten from both male and female donors because it's believed that they will receive blessings upon cutting their hair.
It's also readily available, making it one of the cheapest human hair sold. It is known for its thickness and is very lengthy compared to the others. 
You can get Indian hair in natural wavy or straight style, and they are straightforward to style. They're also shinier and thinner than Chinese hair. They're tangled and shed-free. However, they frizz easily, but you've got nothing to worry about with anti-frizz products.
Chinese Hair
The hair strands are usually straight, coarse, and thick. Those looking for a naturally straight hair extension will surely love it as it's a perfect fit for them. Even African American hair looks good with it.
Because of its coarse nature, the hair is typically utilized to make kinky hair.
The Various Types Of Hair Weaving Techniques
Now that you know the various types of hair weaves available, let's dive into how you could integrate such weaves into your natural hair.
Sew-In/Tracking
This is the commonest method of attaching a hair weave. 
It involves making tiny cornrows braids with your natural hair in the form of tracks on the scalp and sewing in the hair extensions using a needle and thread. 
It usually requires professional services, as if done wrong would cause hair shedding and headaches. 
Ensure to secure it with a knot, and the goal is to make it blend into the natural hair as possible.
Net Weaving
This is often regarded as the most permanent and stable style of weaving the hair. It's very similar to the Sew-In technique but differs because of a breathable net. It is the method of choice for people with hair loss or thinning. 
The net is first sewn on the braided hair, and then the weaves are sewn on the net. This is done to reduce pressure and damage on the natural hair. The net acts as a barrier between the hair and the hair weave. Often, these nets might have nourishing hair oils.
Clip-In
This is one of the easy-to-do methods. It is fast and saves time, thus suitable for people with hectic schedules. It's also cheap, yet temporary. 
The hair weave is attached with a clip that enables you to clip it into the natural hair. It's, however, important that the clip in the extension fits with your natural hair to avoid it being noticeable.
This type of hair weaving is not common amongst black women. It's most popular among Caucasian women.
Fusion Weave
As the name implies, you're fusing the hair weave to your natural hair. It's considered the best method, yet the most expensive. You don't need braids, wefts, or tracks before this technique. However, it has to be done by a professional in this area.
You can either do the cold method by using keratin-based polymer to attach the weaves to the root of your hair strands or the hot method, involving heated keratin adhesive. 
Drawstring Weave
For lovers of ponytails, this technique is your best bet in securing your lovely ponytail to your natural hair. This style is risk-free because you don't have to worry about the extension damaging your natural hair. It also implies that you may easily and safely remove the hair. 
The key to this look is to pick a style that will last.
All you need to do is pack your hair in a ponytail according to your preferred style, then attach the extension to your hair using clips, combs, or elastic bands. You don't need glue for this.
Hair Bonding
This is the second most popular method besides the Sew-In. It is commonly done by parting the hair into two pieces. The hair weaves are then placed in the hair near your scalp.
This style uses glue to adhere the hair to your natural hair, giving it a more natural appearance even though it's only designed to last a week. This style may be referred to as the glue-in method by some.
While some people might try this technique at home, I would advise against this, as this glue tends to damage your hair if not done correctly.
Why Go For Hair Weaves?
There are different reasons why a person would go for hair weaves, and some include:
1. For Longer Lengths
At times, having short hair might cause some ladies to worry, especially if you've tried numerous hair products. Well, weaves are here to save you the trouble. You could get a longer hair length in minutes. By integrating the weaves with any of the above techniques, you can achieve your desired hair length.
2. Color Change
Another interesting reason for using a hair weave is because most people love to experiment with a new look by wearing a different hair color. While you could dye your hair to your desired color, this is not always wise as it would take a longer time to fade or wash off. 
Using colored hair weaves is better for having a different hair color without worrying too much about the removal. If you get bored of that color, you could always change it.
3. To Increase Hair Volume
Hair weave integration is a perfect way to cover it up for those suffering from hair thinning or baldness. Thus, using the weave would make your hair appear fuller in volume and look healthy.
Also, some people only experience thin hair ends; you could add the weaves to the tip of your hair to give them the desired thickness.
4. To Change Style
If you're like me, you must love rocking a different look almost every time. I love being spontaneous, and hair weaves afford me this without much stress.
With weaves, you can go from straight, curly, deep curly, to wavy natural hair in 3 months without altering your hair. Sometimes, special occasions require certain looks, and hair weaves are there to save the day!
Dapper Point: If hair weaving is not your drift, then we suggest reading this article -- Man Bun Vs Ponytail.
---
Watch This!
---
Frequently Asked Questions
Is Hair Weaving Permanent?
No. Hair weaving is not a permanent solution to whatever hair problems you have. The fibers of the hair weaves are bound to get damaged, irrespective of the hair care, washing, and professional touch you give it. Most times, it's advised you revisit your hairstylist frequently.
Are Weaves Bad For Your Hair?
No, there is no proof that a hair weave is bad for your hair. Hair weaves can be a fun way to change your hairstyle and look. However, they can also cause damage to your natural hair and even trigger hair loss if not used properly.
Does Weaving Make Natural Hair Grow?
Weaving can often serve as a protective style that allows your natural or relaxed hair to rest from constant tugging and chemical treatment. This gives your hair a much-needed break to rejuvenate, thus, triggering hair growth. You can treat your hair with the necessary hair care products before using a hair weave to ensure maximum results.
---
Conclusion
That takes me to the end of this comprehensive article about hair weaves and weaving procedures.
If you've always been hesitant to try hair weaves, I think it's about time you did. When selecting a hair weave, it would help if you used this page as a guide. Also, before attaching a new hair weave to your natural hair, ensure you seek professional help and advice.