Long hair, like color, has advantages, but the most versatile is flexibility. There are things to test, and their differences may be relatively slight. Hair may be securely linked to the braids in man buns, while man bun can secure the strands to the tail and retain the hair in an open location.
There's a little more to this answer than you would think. It's natural to be undecided about which one to go. Surely you desire a change.
Take a moment to scroll and read the content provided below to know more.
Main Difference Between Man Bun And Ponytail
Man bun does not pressure the hair, whereas a ponytail does.
A man bun is comfier in the heat, whereas a ponytail only comes second.
A ponytail requires a lesser hair length, whereas a man's bun requires more.
A ponytail does not require much time to master, whereas a man bun needs more time and effort.
The Basics
What A Man Bun Looks Like
A man bun is a hairdo for guys with long hair that includes a ponytail or cluster coiled up anywhere on the crown. A top knot is a bun that is put very high. Man buns come in a variety of styles, some of which are more acceptable than others, like the hair of Jon Snow. 
The hair is wrapped back to loose in a scruffy 'full man bun,' similar to your girlfriend's hair when she goes to the gym. 
They're piled high and low and frequently accompanied by facial hair, which is less common in women.
Man buns can also be seen with an undercut, in which the hair is left long on top but shaved short on the back and sides. 
Most Common Types
Full Man Bun - the length of all sides is equal, and it pulls the hair back into a large, high bun with hair sticks or any tie.
Low Man Bun - the length of all sides is equal but is tied back into a lower position.
Topknot - side hair is shaved, and the hair on top is tied into a smaller shape.
The Pineapple - portions of strands are tied back that sit on top of the hair.
The Undercut - a short length is tied at the top behind with a tie.
What A Ponytail Looks Like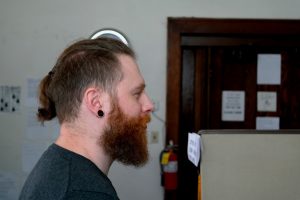 A man's hair does not need to be highly long to pull off a ponytail. It's enough to be able to tie your hair in a knot to achieve short ponytails.
Get the ends clipped uneven if you want to give an edgy edge. If your hair isn't long enough, you may always go for a half ponytail, tied with only the top piece of the hair, and the rest is loose.
You may also get away with an undercut one, a highly fashionable and practical choice for men with short hair.
If you have adequate patience and energy, you can invest some time and effort growing out long locks and showcasing them in a low ponytail.
Most Common Types
Short Tail - shoulders-length.
High Tail - medium length around shoulder length when tied.
Cute Tail - gives life to the rest of the head with accessories.
Top Styles To Help You Choose
Man Bun Styles
1. Classic Man Bun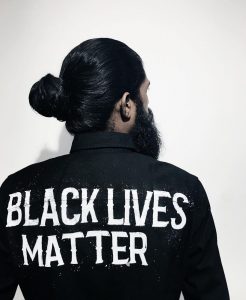 A man bun is easily achieved, and it looks great. The style, which comprises a basic bun knotted in the center of the back, looks best on hair that is shoulder-length or just hair long enough. 
While the style is no longer as distinctive as it once was, it is popular and fashionable. Most importantly, the traditional man bun is incredibly practical. 
If you need to remove your hair off your face or want a sophisticated hairdo, this is a great option that doesn't require a trip to the barber.
2. Mini Man Bun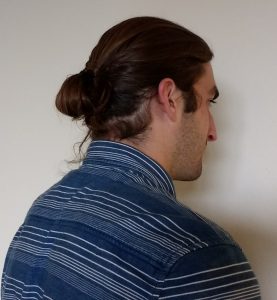 Gents with medium length can also look great in man buns. However, if your strands are on the short side, you'll only be able to produce a little man bun, but don't let it discourage you. 
Tiny man buns may look quite elegant and is a great way to sport this hairstyle. Keep in mind to keep the bun low to keep the bottom areas of your hair from becoming tangled.
3. Half-Bun
This is another excellent variation on the man buns. The top part of your hair is brushed into a bun, while the remainder is kept free. 
The style works well on men who have long or shoulders length hair. 
This style is particularly suitable for those just starting to grow their hair, as it is easier to make and manage with short strands than a whole man bun. 
If you're having trouble keeping parts in place, consider applying a small quantity of product. You may use hair sticks or other ties to do this.
4. Top Knot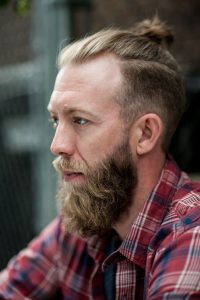 A topknot is a man bun that sits higher than a man bun. It may be made tight and clean for a professional look or loose and chaotic for a more relaxed appearance. 
The location of the bun is crucial, regardless of whatever variant you pick. Sweep your hair up into a ponytail before forming your bun to complete the appearance. 
The ponytail base should be slightly above the crown like the man bun undercut.
5. Messy Man Bun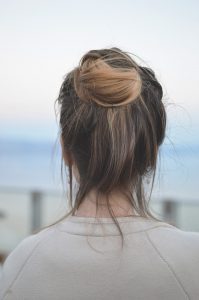 Make your man bun sloppy for a more edgy and laid-back look. The messy man buns are great for those who desire a laid-back style while looking sophisticated as long as you have hair long enough. 
This is because it emphasizes the natural texture of wavy or wild hair in contrast with neat ones. The messy hairstyle is ideal for guys with such hair. 
To get the look, skip the combing and just scrape your hair into a low ponytail with your hands. Then, bind it in a sloppy coil with hair sticks or other ties at the nape of your neck.
6. Mid Fade Bun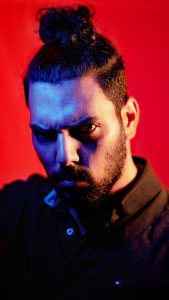 Combining two trendy hairdos into one is an excellent approach to looking fashionable and cool. 
Although not all hairstyles are compatible, this style and a mid fade are a match made in heaven. The mix of these two styles with hair ties results in an eye-catching look. 
A low undercut that starts about the middle of your forehead will make the look even more eye-catching.
7. Low Man Bun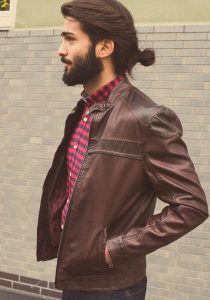 This is an excellent alternative to the traditional form. This, which includes a hair long enough to be wrapped at the nape of the neck, exudes a carefree and comfortable vibe. 
As a result, it's ideal for both professional and informal settings. If you do not have it on the weekdays, you may wear it on weekends or days off.
Ponytail Styles
1. Undercut Ponytail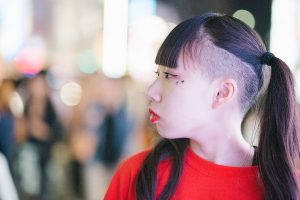 You may enhance your longer ponytails with an undercut haircut. Your hairdo becomes easier to manage because it removes a large chunk of hair from your sides and back with a hair tie. 
It will be especially advantageous to people with thick, unmanageable hair. Go for a shaved sides ponytail to take it to the next level of daring.
2. Half Ponytail
Men with these ponytails kill two birds with one stone: on the one hand, they keep their hair out of their faces so they can see. On the other hand, it still highlights your long, majestic locks.
3. Short Tail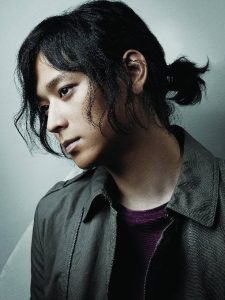 Male ponytails come in a variety of styles and lengths. So, even if your hair's not exceptionally long, men's updos for long hair might still work for you. 
Short male ponytails are also a tidy and professional hairdo that may be used for any occasion.
4. Long Tail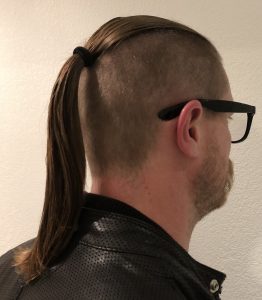 This is a remarkable achievement. However, you may become bored of them, which we understand. 
If you don't want to cut your hair, arrange it in long men's ponytails using hair ties, which also look pretty impressive.
5. Wavy Hair Ponytail
Regardless of your hair texture, you can wear men's ponytails. On the other hand, men with wavy types appear more intricate and stunning. 
So go ahead and add some texture to your waves with a texturizing spray and ponytails using a hair tie.
6. Low Tail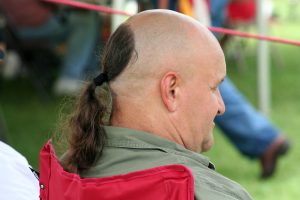 Ponytails with straight hair look beautiful and classy. You can never go wrong with this haircut when you need to appear your best. 
Furthermore, you may wear it with hair ties to a formal meeting and a supper with friends with similar success.
7. High Tail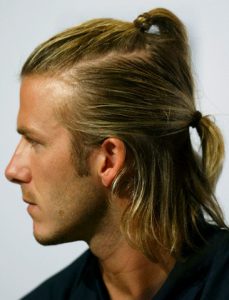 It's entirely up to you whether you want your male pony to be worn around your neck or on the crown. A high pony is a unique hairdo that will draw attention to you. 
Keep in mind that you need your hair long enough to achieve this perfect look until your shoulders maybe. So, if you enjoy being in the spotlight, this is the route to choose.
Dapper Point: You could get yourself a ponytail by employing a nifty trick where hair extensions are used. Man buns are difficult to pull off using this strategy, though. Anyway, here is the post we wrote for this subject matter -- Types Of Hair Weaving.
---
Watch This!
---
Frequently Asked Questions
Are man buns out of style in 2022?
Men's buns have been less famous in recent years, although they are still trendy. Its stylish look goes nicely with other modern styles like the pompadour and the sub-cut. It's also a terrific alternative for men who have long hair and want to grow a beard.
What hair tie do I need to have to achieve this long hair hairdo?
I recommend that you wear a hair bungee to fine-tune the tightness of the pony. Buns are ideal for comfort. I suggest you wear spin pins or hair screws and play with hair sticks and hair forks, especially metal ones, for durability.
What are the things to consider when getting these?
First is comfort, whether your scalp is under less stress or which can be best in hot weather. Next is length since man buns require more size than ponytails. Lastly is maintenance, such as hygiene and how hard to master. Another is the choice, which is optional since it is up to you.
---
Conclusion
These two styles are unquestionably popular among men, yet man buns are currently grabbing the show. Now that you know about these styles, try the various types you prefer. Long hair's versatility should never be underestimated. Have a good time with it.
I look forward to seeing you in your most comfortable and confident life with your appearance.