There's so much to love about our dark skin. Our type of melanin cells protect us from UV damage, and we have a thick dermis layer whose collagen keeps it elastic longer.
But…
Melasma, hyperpigmentation, and deep folds plague our dark skin, and it's for these and other reasons you should have a daily skincare routine.
How long is your morning skincare routine?
There's a simple three-step routine that takes a maximum of 20 minutes.
Before I tell you this and other skin care tips for black men, I'd like to ask,
Do You Know Your Skin Type?
When you know your skin type, you'll choose the best products and the best skincare routine.
Where would you classify your skin in the list below?
Normal skin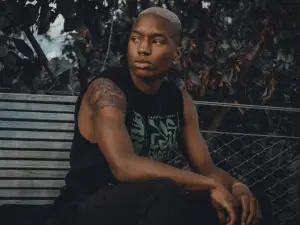 In short, it's perfect skin that knows no acne breakouts or seasonal changes. It's neither oily nor dry, so it's in control of its sebum production. Normal skin has an even skin tone that we all envy, and it's silky smooth. Since it's not problematic, you can use different products on it. 
Dry Skin
This type will have you feeling like you've wrapped your face in wrapping paper as it's too tight. Further, dry skin is flaky, and it ages fast because there's little to no sebum to maintain skin elasticity.
Therefore...
The black men's skincare products for dry skin focus on hydration and strengthening the skin barrier to prevent moisture loss.
Oily Skin
Unlike when you have dry skin, this skin type will have you looking like you sank your face in grease in the morning. You have to keep a few paper towels in your pocket to blot the oil whenever you walk past a mirror.
Even worse, unless you've mastered skincare for oily skin, this skin type gets clogged pores, enlarged pores, and breakouts. Hence, exfoliation is necessary during the black male skin care routine for oily skin. 
Acne-Prone Skin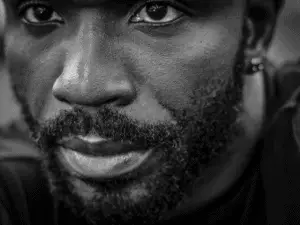 Similar to the skin type above, this one can lower your self-esteem considerably. Additionally, just like oily skin, you may have acne-prone skin because of genetics, diet, hormonal changes, or stress. The breakouts leave you with inflammations and irritated skin.
Combination Skin
I think this one scoops the award for the most confusing skin type. It's oily, but it's also dry in some areas. Therefore, the products you use must take care of both over and underproduction of sebum.
Sensitive Skin
This one keeps you on your toes because if you fail to notice just one irritating ingredient in your skincare product, it irritates your face and causes inflammations.
Sensitive skin also gets allergic reactions and eczema.
With that behind us, let's delve into:
Skin Care Tips For Black Men
Men also want flawless, even-toned skin that isn't problematic. Therefore, bookmark this page so you can always come back if you forget any of the following black men's skincare tips.
Use A Cleanser
Do you know what soaps are doing to your skin? They're stripping off all the good oils and over-cleansing your face using harsh chemicals. It's even worse when you have dry skin as such deep cleansing leaves you with flaky, irritated skin.
For these reasons, use cleansers instead of soaps as their formulation makes them gentler than soaps. A facial cleanser doesn't change the PH of your skin or destroy the natural skin barrier. 
Wash Your Face In The Shower
The steam from the shower helps exfoliate your skin by loosening the dirt as you wash the rest of your body. After the short steaming process, cleanse your face. However, don't wash your face using hot water.
Cleanse Based On Your Skin Type
As we noted earlier, sensitive skin doesn't need more irritation. Additionally, over-cleansing a dry face affects the natural barrier and causes dry patches.
Therefore, for such skin types, cleanse at least once daily. On the other hand, if you have oily skin, you need to remove excess sebum to prevent the accumulation of bacteria.
A Black Man Needs Sunscreen Too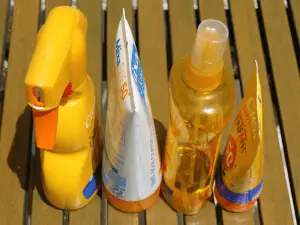 Ultraviolet B (UVB) rays from the sun cause sunburn, and UVA rays penetrate the skin's top layer to cause more damage. Consequently, use sunscreen.
Here's what SPF (Sun Protection Factor) percentages on sunscreen bottles mean.
If it's SPF 15, it can block UV to about 93%. SPF 30 takes it to 97% sun protection while SPF 50 blocks these damaging rays up to 98%. Thus, use an SPF 50 sunscreen if you spend more time outdoors.
A sunscreen with zinc oxide protects you from both UVA and UVB rays extensively.
On the other hand, you get extensive protection from UVB rays and partial protection from UVA rays when you apply sunscreen with titanium dioxide or oxybenzone. But, oxybenzone is on the list of skin irritants.
Read Product Labels Carefully
Some of the terms you'll see on labels are,
Oil-free - suitable for oily skin

Non-comedogenic - no pore-clogging; hence no breakouts

Unscented - less irritating
On top of that, look out for irritants like sodium lauryl sulfate, a harsh ingredient that adds foam and cleaning power to soaps and cleansers.
Shave Carefully
Prepare your face by softening the hair with water and use a shaving cream that hydrates your skin. Also, disinfect your shaving razors to eliminate bacteria. You can also add the best aftershave for black men to your routine.
How To Wash Your Face 
As I stated in the introduction, there's an easy skin care routine for black men that takes 20 minutes only.
Let's look at it.
Step 1 - Cleansing
Use this gentle, deep-cleaning step to remove dirt, oil, aftershave, and any other substance on your skin.
Rinse your face with lukewarm water, rub the cleanser in your hands and apply it gently to your face.
Afterward, rinse. If you're using cleansing milk instead of a gel cleanser, you don't have to rinse it as you can wipe it off with a cotton pad.
Cleansing in the morning prepares your skin to absorb moisturizer and sunscreen.
Step 2 - Exfoliation
A leave-on exfoliant eliminates the coarse scrubbing process of other types of exfoliants that can damage your skin's surface. This step removes dead skin cells. We've talked about the best exfoliant in the last section of this article.
Step 3 - Moisturize
There are two types of moisturizers - AM and PM moisturizers. In the morning, apply an AM moisturizer to hydrate your skin and protect it from the sun. Some AM moisturizers have sunscreen. If yours doesn't, you'll have to buy one separately.
After cleansing your face in the evening, apply a PM moisturizer to hydrate and regenerate your skin throughout the night. Hence, most PM moisturizers have retinol.
I know you're wondering where we discuss some of the best products for each step above.
Don't worry; we have them in the section below as we look into:
Take a look at this guide for black men with sensitive skin:
Frequently Asked Questions 
What Is The Best Skin Care Product For Black Skin?
I'd say complete skin care for African American males requires a cleanser, an exfoliator, sunscreen, and the best moisturizer for black skin. We've touched on the best moisturizer, toner, and exfoliator below. For sunscreen, La Roche-Posay's Anthelios 50 is an SPF 50 sunscreen with zinc oxide and titanium dioxide, and it's unscented.
A facial cleanser that works on black skin is CeraVe Foaming Facial Cleanser. It has a simple formulation suitable for acne-prone, oily, and sensitive skin types. It's unscented, comes in gel form, and doesn't have harsh cleaning ingredients. Plus, it has ceramides to renew the natural skin barrier.
What Is A Good Moisturizer For Black Skin?
Baebody Retinol Moisturizer Cream suits African skin because it combats acne. It's an unscented cream for people with oily, dry, normal, or combination skin.
On top of that, you'll also be massaging your face with natural ingredients like aloe and jojoba.
What Is The Best Exfoliator For Black Skin?
Paula's Choice Exfoliate serves all skin types. Its active ingredients are salicylic acid and green tea extract, whose antioxidant properties eliminate free radicals on your skin.
Salicylic acid removes fine lines and reduces enlarged pores. You apply this exfoliant after your toner and leave it on.
What Is The Best Toner For African American Skin?
Neutrogena's Alcohol-Free Toner is con-comedogenic, so your pores won't clog. Plus, it's for sensitive skin; therefore, it's gentle even on other skin types.
Glycerin is its main ingredient, which tightens your pores and also moisturizes your skin.
As we conclude...
Final Thoughts
Most black men's skincare products are similar to what women with African skin use.
If you've just become curious about your skin and you're starting your regime after years of neglecting your face, start by defining your skin type.
Then work on any problems your face has, such as uneven tone, acne, or dry patches. If you've none of that, cleanse, tone, exfoliate and moisturize. It's so simple! 😉