Take good care of your face, and you'll age like fine wine.
That's so true.
You'll have people guessing whether you had some work done on your face or it's natural. Two steps for that are cleansing and moisturizing. One step removes dirt, the other hydrates.
But...
You need the right products.
As we were looking for the best face wash for black men, the Pure Biology Facial Cleanser caught our attention, and we'll explain why below.
Product
Details

1. Pure Biology

All Skin Types

Prevents Acne
Skin Firming
Parabens Free
Pore Cleansing
Skin Hydrating

Check Current Price

2. L'Oreal Men Expert Hydra Energetic

Charcoal Infused

Removes Sebum
Prevents Breakouts
Rich Lather
Soothing Effect

Check Current Price

3. Brickell Purifying Face Wash

No Chemicals

Contains Vit C & E
With Antioxidants
All Skin Types
Hydrating

Check Current Price

4. Rugged & Dapper

Scrub & Cleanser

Exfoliates
Non-Drying
Fresh Scent
Various Skin Types

Check Current Price

5. Nivea Men Moisturizing Face Wash

Skin Hydrating

For Dry Skin
Gel Form
With ProVit5
Contains Aloe Vera

Check Current Price
Review Of 9 Best Face Wash Products For Black Men
You'll agree with me that shopping for a face wash for black people can be exhausting when you don't know the ingredients that should be in your tube or bottle. 
After perusing through so many brands, we've summed up the best facial cleanser for black men based on their ingredients.
Starting with my top choice:
1. Pure Biology Cleanser With Hyaluronic Acid – Best Overall
We settled for this cleanser as our top choice for many reasons. First, it is suitable for all skin types, from oily to combination and normal skin. 
It makes it a good investment for a household with different skin types.
You'll also note that it's for both men and women, another plus when buying it for a family.
Pure Biology gentle face wash cleanses the pores to prevent acne, but it doesn't leave the skin dry. 
Instead, it contains hyaluronic acid to plump up the skin to make you look younger, plus it hydrates the skin with essential oils like rosemary and clary sage to curb inflammation and breakouts.
Additionally, this cleanser counters acne by increasing skin turnover, and it does not contain parabens. You'll foam up with a pint-sized amount, which means the 6-ounce bottle will last you for a while.
Pros
Contains hyaluronic acid

Pore cleansing

Prevents acne

Firms the skin

Brightens the skin

Parabens-free

Reduces visibility of fine lines

Suitable for all skin types
Cons
Takeaway
It's impossible to overlook the hydrating power of this cleanser, more so on African skin. One bottle serves different skin types in a family, so it's a top choice for us.
---
2. L'Oreal Men Expert Hydra Energetic – Best For Acne
L'Oreal is a leading brand, and it doesn't disappoint in coming up with a face wash for men. Charcoal is a key ingredient in the 5-ounce bottle, its purpose being to remove dirt in the pores and get rid of excess sebum so you won't have breakouts.
It is a foam cleanser, so it lathers nicely on your skin, with the soothing effect of peppermint extract. If your skin is acne-prone, this L'Oreal product contains salicylic acid to counter pimples. 
Despite having charcoal powder, you'll not have a messy bathroom sink.
To sum it up, it's one of the few cleansers that focus on caring for skin with acne.
Pros
Contains an active ingredient

Charcoal powder

Rich lather

Removes dirt and oils
Cons
Bottle peels off

Drying effect on sensitive skin
Takeaway
African skin is sensitive, and when you find a product that takes care of breakouts and pimples, it's worth your attention. This one contains charcoal which is an exfoliator, and salicylic acid to treat acne.
---
3. Brickell Purifying Face Wash – Best Organic Cleanser
Brickell has a long list of organic ingredients such as aloe juice, olive oil, jojoba, green tea extract, and tamanu oil, an assurance that you aren't washing your face with chemicals that may irritate it eventually.
To add to that, it contains vitamins C and E, antioxidants that protect your facial skin from UV damage. 
All skin types can use this cleanser, which is an added advantage if you don't know your actual skin type.
It removes the oil clogging your pores and clears bacteria, so you're safe from skin irritation and acne when using it.
Pros
Natural, organic ingredients

Works on all skin types

Prevents further skin damage

Hydrates the skin

Not tested on animals
Cons
Watery as it's in oil form
Takeaway
Organic skincare products are rare; hence, you're in for a real treat of essential oils and skin-protecting vitamins C & E. As some of the oils in it cleanse your pores, others hydrate the skin to make it look supple and healthy.
---
4. Rugged & Dapper – Best Mix Of Scrub & Cleanser
It's labeled as the skin fuel for men, probably because it's a cleanser, toner, and exfoliator presented in one bottle. Though you're interested in a facial cleanser, it's beneficial to exfoliate dead skin cells to have glowing skin.
You can use it whether you have normal, dry, or sensitive skin. 
For that reason, this facial wash eliminates the stress of worrying about some ingredients drying or irritating your skin.
This product has many good ingredients like vitamin C, and the scent is so fresh because it combines essential oils.
Pros
Quality ingredients

For various skin types

Doesn't dry your face

Large 8-ounce bottle
Cons
Jojoba beads can stick to your beard

A bit pricey
Takeaway
You'll rarely come across a product that exfoliates, tones, and cleansers; consequently, this one is out of the ordinary. Different skin types benefit from the combination of ingredients in the Rugged & Dapper cleanser.
---
5. Nivea Men Face Wash – Best Moisturizing Cleanser
This Nivea face wash aims at hydrating the skin after you've removed the bacteria and dirt that's why it contains aloe vera and Provitamin B5. 
If you spend many hours outdoors, this is your best choice. This cleanser creates a barrier that prevents the loss of natural oils.
Nonetheless, it won't clog your pores because it cleans your skin thoroughly when you shower.
It's for dry skin; thus, you'll not worry about breakouts or irritation.  Rub it on your beard as you shower to eliminate beard dandruff that is common on dry skin.
Pros
Hydrates your pores

Gel form

Formulated for dry skin
Cons
Takeaway
Nivea has so many cleansers that you might not tell them apart, more so when you're looking for facial cleansers for a specific skin type. This one takes away the dilemma if you have dry skin.
---
6. Nivea Men Deep Cleansing – Best For Beard
The vanilla and bourbon scents of Nivea Men Deep Cleansing will have you spending more time rubbing it across your face and beard to enjoy the aroma. 
It also contains charcoal powder, which goes into the pores to rid your face of bacteria and prevent breakouts. 
This cleanser washes off easily with water.
Hence, it doesn't leave a dark color on your beard. You'll use a small amount every round because it lathers well, which makes it cost-effective.
Pros
Amazing scent

For all skin types

Lathers well

Deep cleansing effect

For bearded men
Cons
Takeaway
If you belong to the beard gang, here's a product that won't leave particles in your beard. Once you rinse it off, you're ready for the next step in your skincare regime.
---
7. Nivea Men Sensitive Face Wash – Best Budget Option
One of the worst problems for African American men is dry skin. When washing your face, if the product you are using strips off all the moisture, your skin starts to appear dry and flaky. 
We ranked this Nivea face wash as the best for men with sensitive skin because of its composition of fewer fragrances, no soaps and dyes, and no drying alcohol.
For healthier skin, it contains vitamin E to keep UV rays away and witch hazel as an antioxidant to fight free radicals because the air is full of them, and we're exposed to them daily.
Pros
No soaps

For sensitive skin

Contains antioxidants

Fewer fragrances
Cons
The few fragrances in it can irritate sensitive skin.
Takeaway
It's better to use a product formulated for a specific skin type. This Nivea cleanser offers a solution to men with sensitive skin.
---
8. Biore Men's Skincare Charcoal – Best Charcoal Cleanser
Biore is an affordable charcoal face wash suitable for acne-prone skin because it removes dirt inside the pores without irritating the skin. It also absorbs the excess oil that clogs your pores and forms pimples. 
It's an oil-free face wash, which makes it ideal for oily skin.
Since it has safe ingredients and it doesn't contain parabens, you can use it daily.
Pros
For acne-prone skin

No oils

Paraben-free

Safe for daily use

Deep cleanses the pores
Cons
Cleanser in wash form (not foam)
Takeaway
If you're looking for an oil-free cleanser that's also safe for acne-prone skin, Biore has charcoal to remove dirt in your pores without eliminating natural oils.
---
9. Jack Black – Best Liquid Cleanser
Jack Black's Pure Clean cleanser is a liquid cleanser, unlike other brands that come in foam. On top of that, it's a 2-in-1, so it cleanses then tones to prepare the pores for moisturizing. 
Some of the essential oils in it to fight bacteria on the skin are rosemary and sage leaf. The other natural ingredients it contains are oat and coconut that dissolve dirt and oils for soft and clean skin. 
This deep cleansing facial wash also clears acne and fungal infections after consistent use.
You can prep your skin with it before you shave in the morning to prevent ingrown hairs and acne. Such qualities make it one of the best facial cleansers for black men with a beard.
Pros
Has antioxidants like witch hazel

Natural ingredients like coconut

Works as a skin toner

Suitable for sensitive skin

Preps your skin for shaving
Cons
Takeaway
With its composition of natural ingredients, this facial wash cleans and tones your skin. 
---
Tips To Get The Right Facial Cleanser For Black Men
During your daily black men skin care routine, the first product you apply to your face is the cleanser. It contains ingredients that remove sweat and dirt from your face. 
As it does so, it leaves natural oils on your skin, unlike what a body wash or bar soap does. Additionally, the ingredients in a facial wash are gentle, so they don't irritate the skin.
If you haven't used facial cleansers before, or you're looking for the right one...
Know Your Skin Type
The breakthrough in your search for the best face cleanser will come after you define your skin type. There are about seven types based on how they react to allergens and their oil production. 
Here's a simple skin type summary:
Normal Skin – Accommodates Different Cleanser Ingredients
When you have normal skin, you rarely have breakouts or reactions to the weather, food, products, etc. Your skin controls its oil production naturally, and you're always hydrated. When you touch your skin, it's supple and almost wrinkle-free.
Oily Skin – Requires Special Attention
With oily skin, you have a natural glow. Nevertheless, you're often shining instead of glowing until you blot out excess oil.
Dry Skin – Flaky
When your face is dry, you can't tell whether the environment is drying out your skin or it's the harsh products you're using. Your skin looks like it can crack any time, it's sensitive and itchy.
Combination Skin – You Can't Tell
Some parts of combination skin are dry or normal, mainly around the cheeks. However, the T-zone is oily. For this skin type, you have to blot out oil from your forehead and nose.
Acne-prone Skin – Breakouts Are Unmanageable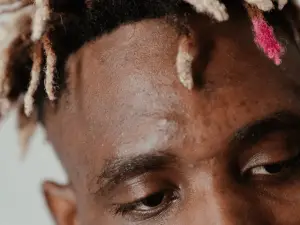 When you have this skin type, your skin clogs easily. You'll have whiteheads and blackheads often.
Now, can you tell your skin type?
Once you do, the next step is looking at the packaging of facial cleansers to tell good and bad ingredients apart.
Look For Active Ingredients To Treat Acne
Active ingredients treat and prevent breakouts. 
The three main active ingredients are benzoyl peroxide, salicylic acid, and retinol. In most cases, you'll get cleansers with 2% salicylic acid or benzoyl peroxide. 
Look out for ingredients that irritate skin with acne as they exacerbate your inflammation. They include harsh chemicals, acids, and fragrances.
Look Out For Harsh Ingredients
Parabens are some of the most controversial ingredients given numerous studies to prove their value or destructive effect. 
Though it's almost a century since their use as preservatives began, their link to breast cancer and decreased sperm count have led to more companies manufacturing paraben-free products.
Other ingredients to add to your watch list are sulfates, fragrances, essential oils, and soaps. Here's a guide how to get rid of acne for good:
FAQs About Face Wash For African American Men
How Often Do You Use A Face Scrub?
A facial scrub controls the production of sebum and eliminates bacteria to reduce acne and other skin blemishes. 
You can exfoliate up to three times a week though it depends on your skin type and skin health. For oily and acne-prone skin, three times is okay. 
On the other hand, for sensitive and dry skin, two times a week is the maximum.
Should I Use A Facial Cleanser Every Time I Wash My Face?
No, it's not necessary. However, morning and evening sound like a practical routine for preparing your skin to combat pollutants in the air and treating it after exposure.
Since the face needs its natural oils, use a facial cleanser only twice a day because too much cleansing can leave it dry and irritated. There's no consensus on the number of times to wash your face. 
When you overwash your face, you might notice some changes like breakouts and dryness, sure signs that you're stripping the natural oils and creating an environment for dirt and bacteria.
Is There A Specific Type Of Face Wash For Black Men?
No, there isn't. As you look through reviews, you'll notice most cleansers are either for men or women, not specifically for black or caucasian skin. 
Fragrances are some of the ingredients that differentiate the ones for men and women.
As a black man, use your skin type to find a cleanser that does not irritate your skin or cause acne.
Conclusion
Get skin care products that are gentle on African skin bearing in mind that African Americans can suffer from skin issues like acne, enlarged pores, and hyperpigmentation. 
That being the case, the Pure Biology Facial Cleanser is our top pick for this job because it's suitable for all skin types, it doesn't contain parabens, and it combats acne. 
In contrast, the Nivea Men Sensitive Face Wash suits irritable skin only. However, it's budget-friendly, and it has just a few fragrances to avoid irritating sensitive skin.