You can't avoid having a bald spot - but you might be able to hide it.
So…
If the thought of losing your hair fills you with dread, then we've got some excellent news for you! There are plenty of products out there that will help and cover up any gaps in coverage. If you need help choosing the best men's hair styling powder, please keep reading.
Check out today's best hair powder products for men and see why Toppik Hair Building Fibers is our top pick.
Review Of The Best Hair Powder For Men In 2023
1. Toppik Hair Building Fibers – Best Overall
Pattern baldness in males can be disturbing, which is why some would end up either depressed or in denial. Chances are, you have already tried researching different methods to deal with it. You're just in luck if you came across Toppik Hair Building Fibers when looking for a reliable men's hair powder review.
You shouldn't miss Toppik if you're going the extra mile to achieve fuller-looking hair. It's rich in keratin protein, enhancing hair volume as it blends smoothly with your hair. This unique formulation provides a natural, undetected look on your hair.
However, many of its users recommend that you avoid using this product on entirely bald hair.
If the formula has something to cling to, you will achieve better results, so try applying it on a few hair strands.
Pros
Natural-looking and clings to any hair type

Provides a fuller-hair look for individuals with thin hair

Made of all-natural, high-grade keratin

Resistant to sweat, rain, and wind

Available in nine different colors

Ease of application (with the inclusion of a Toppik spray applicator)
Cons
Not entirely a solution to hair loss

Works only as a concealer for bald spots
Takeaway
Toppik does an excellent job of providing coverage for thinning hair. It grips onto your existing hair by filling in sparse areas to conceal hair loss. Thus, it gives your hair a fuller look and can even withstand sweat, rain, and wind to make it last longer.
---
2. SexyHair Big Powder Play – Best Value
SexyHair Big Powder Play is a stand-out option for those looking for the best men's hair powder. Hair strands quickly absorb the translucent powder since it liquefies after application.
Yes, it is so clear, so you never have to worry about unsightly residues ruining your hairstyle.
Men find SexyHair effective in adding more volume and texture to their thin hair. Moreover, it's safe and easy to use. You only need to sprinkle some and massage them into the roots to bulk up those limp strands.
Many users love how it continues to work up some volume even after 24 hours of application. You no longer have to worry about that thin, lifeless hair even when you're on the go. SexyHair comes in a small bottle with a pump dispenser for more convenient use.
Consider giving Big Powder Play from SexyHair a try if you're looking for a sign not to give up on your hair. It can do wonders in adding more hair volume, which no balm or cream can do for you.
Pros
Define your style with only a small amount

Absorbs easily

Provides fuller, voluminous hair

Odorless and colorless

Non-sticky and lightweight
Cons
Not suitable for oily scalp since it contains a variety of seed oils

Not long-lasting

Using too much gives the hair an unnatural look
Takeaway
The trick to using this product more effectively is using a minimal amount. It would offer optimal results if you also spray it directly onto the roots. SexyHair provides the best value by lending your hair the volume it needs at a much affordable price.
---
3. Biosilk Volumizing Powder – Best Budget-Friendly

There are several reasons why many users trust Biosilk Volumizing Therapy Texturizing Powder.
But of all those reasons, what men love most about the product is its silk and rice protein infusion
This unique formulation improves hair volume and texture by absorbing excess oil from the roots. Aside from that, the powder provides your hair UV protection while giving it style. You can be confident that the hair boost the product gives won't fade under the sun.
Biosilk comes in a convenient shaker-style bottle, perfect for on-the-go use. It will give your hair that noticeable lift in just a few seconds without weighing it down. Now you can improve your hair volume without having to spend a lot.
Pros
Silk and rice protein formulation

Effective oil absorption

It gives fullness and more body to your hair

UV protection

Travel size
Cons
It gives a tight feeling to your hair

The bottle dispenses so easily

It makes the hair grainy and hard to manage
Takeaway
Thanks to Biosilk, you can now get a volumized updo in no time for that fine, thin hair of yours. It absorbs scalp sebum and gives life to your hair while protecting it from free radicals.
---
4. American Crew Boost Powder – Best Non-Sticky Formula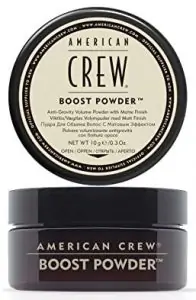 The American Crew Boost Powder is worth a second look for achieving hair volume with an impressive hold and a matte finish. It's suitable for short to medium hairstyles, needing only a tiny amount to apply to the roots.
Its sheer, scentless powder is lightweight, making it easier to control the amount you wish to use.
However, its container has too many holes that make it challenging to aim the powder onto the roots.
Most men love how the American Crew can reduce too much shine for those who prefer to have it that way. You may also wash it effortlessly without leaving any unsightly residues behind. This product gives you the chance to have that salon look of your dreams less the steep cost.
Pros
Dry matte finish that is non-sticky

Adds hair texture and hold while absorbing excess oil

Sheer, concentrated, and lightweight powder

You only need small amounts to use effectively

Easy application in adding instant hair volume

Non-damaging to the hair and easy to rinse off with no residue
Cons
Too expensive for a small bottle

Not suitable for medium or long hair

Formulation contains parabens
Takeaway
It's hardly surprising that many users find American Crew Boost Powder as the best hair powder for men. It can save you the visit to a professional hairstylist for that salon-like hairstyle. You can apply the powder several times a day to give your hair a fuller and more masculine appearance.
---
5. BOLDIFY Hair Fibers – Best Long-Lasting Volume
Anyone looking for the best men's hair styling powder would appreciate an increased volume without the unnatural appearance. Luckily, BOLDIFY Hair Thickening Fibers can provide that and treat all types of hair loss.
This top-rated brand targets balding spots, addressing patchiness with its follicle-like fiber.
Such a unique fiber replicates the texture and color of your actual hair, making it look more natural.
Its application is simple; you only have to concentrate on the thinned areas and apply the solution.
It has a waterproof formulation that can endure sweat, rain, and wind, yet it's easy to wash off and stays in place all day. This hair-thickening product from Boldify even comes with a lifetime warranty.
Pros
Mimics natural hair

Enhances hair thickness

Resistant to  sweat, rain, and wind

Easily blendable and untraceable formula

Lifetime guarantee

Convenient application
Cons
It could improve with a more straightforward application like sprinkling

Inapplicable for a broader coverage
Takeaway
BOLDIFY is a cutting-edge solution to thinning hair with instant and long-lasting results. It helps achieve fuller hair in 60 seconds or even less for some, regardless of hair length. Being a game-changer in hairstyling needs is what makes it the best texture powder for hair.
---
6. Slick Gorilla – Best Lightweight Formula
The Slick Gorilla Hair Styling Texturizing Powder is a lightweight styling powder that adds volume to your tresses. It has a less greasy feel than most wax or gel formulations, making it one of the finest hair powders for men.
Individuals with oily hair love its matte finish and strong hold the powder provides all day.
It also works well for wavy or straight hair, adding instant height effortlessly. You won't even have to worry about messy white dust on your shoulders after each usage, either.
Additionally, Slick Gorilla offers you a less time-consuming application, unlike similar products. You won't have to worry about persistent clumps of hair on your head when using this powder.
Pros
Instant hair lift that looks naturally

Lightweight and undetectable hold

Vegan and ideal for sensitive scalps and short hair

Suitable for thinning hair

Convenient shaker-style dispenser
Cons
Tricky to use for oily hair

Not easily washable
Takeaway
The Slick Gorilla is a user-friendly formula. You only need a small quantity for a matte-like finish that keeps your hair in place. It can withstand all-day use without the dry or greasy feeling. However, since the powder rapidly absorbs the hair, you'll need shampoo to clean it thoroughly.
---
What Causes Hair Thinning In Men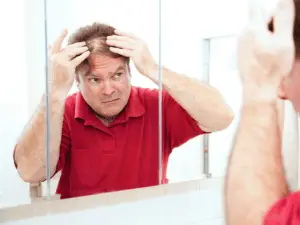 It is not unusual for men 30 and up to experience hair loss. Hair loss and thinning can be due to a variety of factors, including genetics. It can also be because of diet, medications, stress, and other factors.
Hereditary
The most prevalent reason for hair loss in black men is androgenic alopecia. It is a genetic condition that affects people as they grow older. Some of its symptoms include a receding hairline, usually at the temples and crown. For some men, this condition starts showing during their teenage years, while for others, it's in their early 30s.
Medical Conditions
Thyroid disease, iron deficiency anemia, and secondary syphilis can all contribute to hair loss. Individuals having immunosuppressive medications and chemotherapy are also more at risk. Anabolic steroids can also cause baldness, same with fungal conditions and nutritional deficiencies.
Grooming And Hairstyling Habits
Pulling the hair next to the scalp tightly, like wearing pigtails and braids often, can cause short-term hair loss. Some hair treatments, like hot oil and perming, may also cause thinning and hair fall. The same thing could also happen if you frequently wear hats, helmets, and other headwear.
Stress
Hair loss can also be because of too much stress, whether physically or emotionally. Stress could lead to weight loss, an unhealthy lifestyle, and emotional shock. These factors can also contribute to hair loss. You can try listening to soothing music, meditating, and exercising to relieve yourself of stress.
Watch this short video to learn more about stress-related hair shedding and what you can do to prevent it:
Frequently Asked Questions
Is Men's Styling Powder Good?
Yes, and using a hair styling powder for men should not be a cause of worry. It doesn't damage your hair, but experts do not recommend daily use. You should wash the formula thoroughly after each use to prevent buildup and discomfort. Residues can also cause scalp dryness and flaking.
Is Hair Powder Better Than Other Men's Products?
Yes. Styling powders work by adhering to hair strands to add volume by friction. It's the best way to get more volume in short or medium hairstyles. Further, it absorbs excess oils while providing a natural lightweight hold.
Alternatively, a wax is excellent if you want shinier hair, but it does not have a strong, all-day hold. Pomades have a thicker consistency than waxes, making them more suitable for thick or curly hair. A mousse, on the other hand, is perfect for more definition in shaping your hairstyle.
What Does Men's Hair Powder Do?
A textured powder is a lightweight formula that gives your hair an extra lift. It adheres to hair fibers to create more volume through friction. There are 7 best hair fiber types you can choose from. Such a formula can help maintain a fuller look without weighing your hair down.
How To Apply Men's Hair Powder?
Using a hair powder is as simple as applying it directly onto the roots for an instant lift. You may massage the scalp and scrunch your hair a bit to style it while creating more volume. It's best to do this on freshly washed hair for optimal results.
If you have longer hair strands, try lifting each section and applying the powder directly to the roots. Feel free to try out different techniques until you achieve the hairstyle you desire.
Final Thoughts
The market for men's hair products can be overwhelming. There are so many options making it hard to decide which ones will work best for you. However, not every product will give you the look you prefer in a single try.
Instead of using dry shampoo to target oily roots and add volume, you should consider a hair powder. Who knows? Finding the best men's hair powder might be what you need for that impressive lift. It won't leave you any residues that dry shampoos give sometimes.
In summary, Toppik Hair Building Fibers tops our review for the best hair powder for men. It naturally blends with the hair to create the fullness you prefer. Alternatively, the SexyHair Big Powder Play offers the best value for that coveted bounce in your hair at an affordable cost.