People often ask if using beard oil really has any benefits. I counter with questions before I make any bold statements. They usually are along these lines. 
Does your beard itch the moment you grow it out? Is your beard hair embarrassingly flaky and patchy? In that case, you'll treasure beard oils with their softening and moisturizing effects. They also leave you feeling extra confident with fresh scents. 
We'll take a closer look at the many benefits of beard oil for men, how you can concoct one for yourself, and even alternatives for a better experience. 
Debunking The Age-Long Myth of Beard Oil for Beard Growth
When I was 18 years old — dealing with peer pressure — all I could think about was growing beards. It was my freshman year, all my friends grew a 'stache at least, but I'd draw at the imaginary strand on my chin. 
I'd had enough of their taunts. So I foolishly decided to use beard oil to grow my beards. I bragged to my friends that I'll have my own beard within a month. "They'll eat their words," I thought to myself as I rubbed an Honest Amish beard oil over my barren face. 
Two weeks passed, a month, six months, and I'd given up hope. The same way you should if you're trying (or intend to) to use beard oils for faster beard growth. 
Beard oil won't make your beard grow faster or longer or initiate a growth spurt on a bald patch.  
Beard oil isn't scientifically proven to grow facial hair in any capacity. And you won't find an authentic product that offers to promote beard hair growth. If you do find one, be wary of using it and perhaps steer clear of such a product. 
But beard oil will undoubtedly offer these benefits, some of which might mimic beard growth. 
4 Benefits of Beard Oils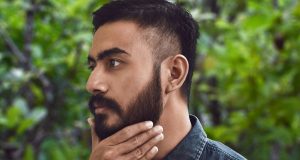 Moisturize Skin Underneath 
One thing a beard oil has up its bag of tricks is how it makes the skin beneath your beard feel like heaven. Heaven because it keeps the skin beneath your beard soft, smooth, and healthy. If you're anything like most men, your beard starts to itch wildly after growing it out for a few weeks. 
With beard oi's moisturizing effects, it'll relieve you of beard dandruff which, in turn, means no more beard itch or flaking. That alone boosts my confidence and comfort to carry a full-grown beard. Something I'm unable to achieve without a beard oil.     
Soften Your Beard 
Think your beard is soft and supple the way it is? Or do you have brittle, crispy facial hair you've accepted will never change? Think twice about that. 
Applying beard oil with saturated fats can soften your whiskers faster than you can imagine. If your hair's in a critical condition, you can start with twice a day application. 
How it works is the vitamins and nutrients strengthen your beard's moisture barrier. Essentially, it retains moisture in the skin underneath your mane, transforming it from average-at-best into a pleasure-to-touch.  
Get Your Shine On 
It's a myth that beard oil grows your whiskers faster, but it can make your whiskers look fuller. When you have a healthy, moisturized beard, people notice its allure. The whiskers are softer, blacker, lustrous, and appear thicker. So even if all you have is a trim goatee, beard oil creates an illusion — a healthier, lustrous beard — of fuller facial hair. 
Get Your Scent On 
Does your beard hair musty or altogether unpleasant smell? The prime culprit is most likely bacteria from sweat if you have a non-existent beard hygiene routine. Using beard oil products will not only cleanse your hair and moisturize it. Those alone are enough to leave your facial hair with a fresh, natural scent. 
But that's not all. Some beard oil products contain essential oils with subtle, therapeutic fragrances. And if you choose right, the smell isn't intrusive or choking either. Think of it as a deodorant for your beard hair. Even better, you can create your personal scent with handpicked essential oils. 
How To Use Beard Oils To Tap Their Benefits 
You can use a beard oil with zero risk of complications and almost instant results. It's that easy to use. A comb is all you need and maybe just your hands if you have a short beard. 
What You'll Need to Apply Beard Oil
Honesty, all you need to use beard oil are your palms. But I'll assume you don't have a clue about it or how to groom your beards. 
In that case, you'll need a comb with a narrow and wide section on each end. This way, you can comb through regardless of your beard size. For my brothers with patchy beards, you can get by with just your hands and a soft brush.  
Another item for hassle-free application is an eyedropper lid. Most top-of-the-line beard oils come with one, but you can find one online if your serum doesn't have one or is homemade. It helps you to portion beard oil in drops, so you don't leave your beard greasy. 
Step 1: Prep Your Whiskers 
The best time to apply beard oil is immediately after a shower when your whiskers are damp and pores open. It will prep your skin and beard to absorb the vitamins and nutrients to the fullest.
In a way, it motivates you to wake up every morning and groom your beard.
Step 2: Rub Face-to-Chin 
Apply one or two drops on your palm and rub onto the cheek — assuming you've grown beards there. And rub it down to your mustache and chin for full coverage. 
Note that applying more oil won't make the product work faster. Basically, you want the oil to reach the skin beneath your mane. If you feel it's not enough, you can apply a couple more drops. 
But never use more than you need because it'll only make your beard greasy, heavy, and sticky. Trust me, you don't want to spend the day feeling that uncomfortable. 
Step 3: Comb Through 
Distribute the oil throughout your beard with a double-end comb we discussed earlier. Aty this point, you'll know whether you need to add more oil, especially if you have long or dry beards.
To jog your memory, below are instances where beard oil is wrongly used
When your beard is wet
Overusing 
When your beard is clumpy or rough 
When it causes irritation or discomfort
Applying directly to your face
What is Beard Oil Made Of — Is It Safe? 
If you have cold feet about beard oils, you probably have no idea they're harmless. They are a simple formulation of carrier oil and essential oils. Sometimes, only a carrier oil works, but not essential oils exclusively. 
Most beard oils have one carrier oil and a handful of essential oils. 
What's Are Carrier Oils? 
Carrier oils act as a base to dilute essential oils. They help to neutralize the many possible effects and reactions of using directly on your skin. 
Carrier oils are usually vegetable oils obtained from crushed seeds, fruits, or nuts of plants. Unlike essential oils, they're cold-pressed — made with minimal processing (no heating) — and do not evaporate. 
The following common, effective carrier oils you'll find in beard oil 
Sunflower seed oil 
Jojoba oil 
Argan oil 
Pumpkin seed oil
Hemp seed oil
Kernel oil
Choosing the Best Carrier + Essential Oil Combo To Optimally Tap Beard Oil Benefits
Selecting a beard oil with the best ingredients boils down to your preference. It goes along the lines of your skin type and nose for scents. 
For example, I'll always go for coconut-based beard oil. The scent of coconut alone lets me dip my hands in my pocket, not to mention its many skin benefits. But you should pay attention to allergies and vitamin benefits when choosing the right one for you. For instance, if you have dry or sensitive skin, using a beard oil with avocado, jojoba, or castor as its carrier oil might be more beneficial. 
Essential oils have a host of anti-inflammatory, anti-bacterial, and anti-fungal properties. But what makes them likable is the soothing scent and immediate shine they give the skin and beards.
Ultimately, look for beard oils that are cold-pressed, organic, and preservative-free. 
Really, There Are No Side Effects to Using Beard Oil?
The cardinal rule is to scrutinize the ingredient list of beard oil before first use. Even the slightest trace of an ingredient you're allergic to can cause itching or burning from using beard oil.
If that's the case, you'll be fine. Rinse off your beard immediately with lukewarm water and take allergy medication. 
Ultimately, it's perfectly safe to use any cold-pressed or organic beard oil. Experts also say skin irritation is a likely reaction if the beard oil is poorly diluted. 
Natural and Effective Alternatives to Beard Oils 
The truth is that our body already secretes the vitamins most beard oils offer. 
So why spend a couple of bucks every other month on beard oils when your skin already produces it for free? Well, it's the same reason you're here: self-care. 
When you take a shower, bathing soaps and gels strip your skin of these essential vitamins. 
It's for the same reason you moisturize when your body and hair after a shower. You see how dry and itchy your skin gets. It's because you've washed off all the natural oils. 
The same applies to using beard oil. 
Somehow, you must replenish the natural oils you've lost with artificial products that mimic their qualities. Enter beard oil, beard wax, and their many alternatives. You can even use beard oil on your hair if needed.
Beard Oil vs. Beard Balm vs. Beard Wax
Beard oil is slightly different from its wax and balm cousins in terms of functionality. But, sure, they all nourish and put shine on your beard. 
But a beard oil won't give you the holding and control qualities of a beard wax or even beard balm. While the wax and balm have a slight hold, they also condition (soften) like beard oil. 
Some of the best natural beard oil alternatives are standalone: 
Mineral oil 
Jojoba oil  
Shea butter 
Cocoa butter 
---
Watch This!
---
Conclusion
Beard oil, as you now know, comes with many benefits and is not just for show. You can enjoy a softer, lustrous, and fuller mane free of beard itch, beard dandruff, and flakes. Awesome, right? 
And while you grow out your beards, it doesn't have to smell foul. You can choose between scented and unscented oils and still carry a pleasant scent. The best part is these oils are economical — they only cost some bucks and last for months, depending on the length of your beard. 
Put a shine on your facial hair today when you browse the best beard oil products on the market or simply make yours at home.