From cosmetics to hair care, the market witnessed a phenomenal increase in organic brands for the past few years. Everyone has their go-to products in the hope of achieving healthier hair.
With that in mind...
If you think about shifting to organic shampoo, you might often encounter OGX shampoo on the list of the most reviewed products today. However, you want to know the suitable shampoo for your needs.
Check out our reviews of some of the best OGX products for hair growth, smoothening, strengthening, and more. Discover how OGX Teatree Mint Shampoo is our best overall.
Best OGX Shampoo Review 2022
1. OGX Teatree Mint Shampoo – Best Overall
OGX Teatree Mint Shampoo is worth considering if you're looking for a suitable shampoo to hydrate and nourish your damaged hair. It contains potent antibacterial and anti-inflammatory properties that keep your hair's pH level well-balanced.
Aside from its tea tree oil infusion, this lightweight formula also has witch hazel and mint leaf extract to relieve itchy or irritated scalp.
Likewise, this OGX  mint shampoo is free from harmful sulfates and parabens; hence, it gently removes buildup while nourishing your tresses. Additionally, this Teatree Mint Shampoo from OGX leaves your hair feeling refreshed and clean with the bonus of its minty scent.
Even creating a thick lather would not be a problem as its gel-like consistency foams quickly. You can pair it with an OGX conditioner for best results, depending on your personal preference.
Pros
Peppermint and tea tree oil, and witch hazel extract infusion

Antibacterial and anti-inflammatory properties

Nourishes and relieves a distressed scalp

Prevents hair loss

Gently removes dirt and residues

Refreshing minty scent
Cons
Not suitable for dry hair
Takeaway
The powerful combination of natural anti-fungal tea tree oil and a highly-stimulating peppermint can effectively hydrate a distressed scalp. It's the best shampoo for individuals suffering from dandruff.
---
2. OGX Biotin And Collagen Shampoo – Best Value
We find OGX Biotin And Collagen as the best value shampoo for fine hair. This collagen shampoo is inclined towards natural hair nourishment, making hair thicker and fuller and stimulating growth at a very reasonable price.
You can feel it texturizing any hair type, adding much-needed volume even for those who have the thinnest hair.
It has a lightweight consistency resembling the Moroccan Argan Oil shampoo; thus, you only need a minimal amount for every use. Despite this consistency, the formula produces a rich lather to moisturize your hair adequately without the greasy feeling.
Pros
Bouncier, plump hair

Boosts natural keratin production

Lightweight formula

Cleanses hair and scalp without damaging sulfates

Strengthens your locks and enhances growth
Cons
It may take several uses to see the effects

Vanilla scent can be overpowering for some
Takeaway
The OGX Biotin And Collagen shampoo is a vitamin-packed formula in a bottle with a powerful combination of collagen, hydrolyzed wheat extract, biotin, and bamboo fiber extract. These nourishing ingredients work together to boost every strand and give your tresses a plump look.
---
3. OGX Argan Oil of Morocco Shampoo – Best For Damaged Hair
OGX Moroccan Argan Oil Shampoo could be the best solution you're looking for to address your worries about treating your severely damaged hair. The freshly-pressed argan oil ingredient in this formula restores the hair's naturally silky smooth condition.
For this reason, this Morocco hydrating hair shampoo is a well-loved product for most individuals suffering from dry hair problems.
It intensely moisturizes the hair from the roots, protecting it from environmental damage and excessive styling with its antioxidant properties. As such, it tames hair frizz right from the very source. 
Moreover, it is a sulfate-free formula using only minimal chemicals to provide you with a more organic way of caring for your hair. 
Pros
Deep hair moisturization

Repairs damaged hair

Improves the hair's overall look

Rejuvenates hair follicles to prevent hair fall

Gentle, natural ingredients
Cons
Slightly thick consistency

Unnatural scent

Quite expensive
Takeaway
This Morocco shampoo from OGX gently cleanses the hair without stripping it of natural moisture. Hence, you can be confident that using it won't irritate or worsen damaged hair. It's rich in antioxidants to keep your tresses protected from external factors, such as over-styling.
---
4. OGX Coconut Water Shampoo – Best For Oily Hair
This clear, gel-like formula is the best choice of shampoo for individuals with excessively greasy hair. The OGX Coconut Water Shampoo works so well in keeping your hair soft without drying out.
Manufacturers came up with this shampoo with rich coconut water infusion, well-known for abounding electrolytes that invigorate dry hair strands.
Despite its powerful blend containing coconut oil to improve the hair's overall health and condition, this shampoo delivers weightless moisturization without leaving a greasy after-feel. It gives your scalp a nutrient boost while cleansing it from dirt and residues.
Pros
Best for oily hair with overly dry ends

Keeps hair well-hydrated and adds extra shine

Lightweight moisturization

Gentle and safe enough to use daily
Cons
Not suitable for individuals who dislike the scent of coconut

Consistency is pretty sticky
Takeaway
This coco water shampoo from OGX makes a suitable choice for users suffering from their scalp's excess oil production. Like any other OGX product, it is sulfate-free, yet it lathers and cleanses well and still leaves you with a light, refreshing feeling.
---
5. OGX Coconut Milk Shampoo – Best Nourishing Shampoo
If you're looking for the best OGX nourishing shampoo to keep your thick tresses well-nourished, this formula is excellent for your needs. OGX Coconut Milk Shampoo is a staple for treating a dehydrated hair strand or maintaining fortified, healthy hair.
Richly infused with coconut milk, coconut oil, and egg-white protein, this hair grooming essential is suitable for any hair type.
This coconut milk shampoo provides deep conditioning and naturally supports growth, whether you use it for frizzy, thick, straight, or oily tresses. It has a white, gel-like consistency that lathers pretty well, even in small amounts.
It locks in moisture while reducing too much puffiness in your tresses; hence, it saves your precious time from over-styling to keep your hair tame. However, it can sometimes give your hair roots a greasy feeling, making it unsuitable for people with more delicate hair strands.
Pros
Natural formulation safe for daily use

Relieves scalp itching

Improves hair elasticity and hydration

Protects hair shafts from damage

Strengthen hair and roots
Cons
Not suitable for fine, limp hair

Not recommended for colored hair

Overpowering fragrance
Takeaway
This nourishing OGX Coconut Milk Shampoo does a decent job of ensuring a clean, healthy scalp and hair. The shampoo is the closest thing to a holy grail for anyone wishing to maintain hair nourishment and elasticity.
---
6. OGX Coconut Miracle Oil Shampoo – Best Organix Shampoo for Frizzy Hair
OGX Coconut Miracle Oil Shampoo is undoubtedly the best organic shampoo for frizzy hair on our list. It keeps your hair and your scalp in tip-top shape by restoring lost moisture naturally.
This shampoo contains coconut oil and vanilla extract, perfect for taming the frizz in your curls and making them more manageable.
It softens hair shafts, enhances their elasticity, and repairs damage while cleansing each strand of dirt and stubborn residues. The fatty acids in coconut oil allow quick absorption; hence, the formula deeply penetrates the roots for more efficiency.
Even if your hair needs serious restoration from heavy damage, this OGX miracle shampoo can treat that problem pretty well. You will notice your tresses being less prone to breakage while also getting rid of static, meaning less need for you to blowdry your hair.
Pros
Invigorates and tames frizzy strands

Eliminates tangles

Reduces brittleness

Deeply moisturizes

Restores damaged tresses
Cons
Not ideal for individuals with oily strands

Not recommended for daily use
Takeaway
Most existing users love this OGX shampoo because of its fresh yet delicate smell. It calms frizzy strands with so much ease while gently stripping dirt to leave your tresses well-moisturized after use.
---
7. OGX Brazilian Keratin Smooth Shampoo – Best Smoothening Shampoo
This sweet-smelling, sulfate-free formula is our bet for the best organic OGX shampoo for preventing hair breakage. The OGX Brazilian Keratin Smooth Shampoo, as its name implies, smoothens hair while giving it a luxurious shine.
Its powerful infusion of keratin protein, coconut oil, cocoa butter, and avocado oil work together to ensure that your strands are softer and smoother.
People with curly hair will appreciate how this formula is rich with keratin to make their tresses look naturally straight. Keratin protein is a highly-effective ingredient to smoothen your strands while also repairing hair cuticles from damage. 
Its unique formulation is perfect for moisture restoration and strengthening each strand, while coconut oil transforms the unsightly frizz into a desirable shine. Not to mention that cocoa butter also works excellently in restoring your hair's natural oil, which boosts your desired results.
Additionally, Brazilian Keratin Shampoo is well-suited for achieving salon-like hair without the harmful chemicals or the damage from over-styling. You don't need to spend a considerable chunk of your hard-earned cash to obtain that silky, straight hair.
Pros
Rich in keratin protein, coconut and avocado oil, and cocoa butter

Gentle to use for different hair types, including colored or treated hair

Protects hair from UV rays and pollution

Suitable to use as a straightening shampoo

Repairs cuticle damage
Cons
Not entirely a chemical-free formula

Not a long-lasting fragrance
Takeaway
We find this Brazilian Keratin formula the right shampoo for ending your troubles with frizz and even hair fall. It's naturally rich in keratin that gives your hair that straight look like you just got a Brazilian treatment from a salon.
---
8. OGX Purifying + Charcoal Detox Shampoo – Best Protection For Color Treated Hair
We recommend this OGX Detox Shampoo as the best option for color-treated hair. It washes toxins right out of your hair with the cleansing and refreshing properties of coconut, charcoal powder, and kaolin clay.
All ingredients work together in giving your tresses the necessary detoxification to eliminate dirt, excess sebum, and product residues from using hair masks, gels, and sprays.
It contains activated charcoal that makes detoxification highly efficient to leave you feeling clean and refreshed with every use. As a result, you get softer, rejuvenated hair with no frizz and a pleasant fragrance that is not overpowering nor irritating.
OGX Purifying + Charcoal Detox Shampoo lives up to its claim of deep cleansing your hair without using chemicals that can do more damage to your hair. If you have color-treated or recently undergone a hair treatment, this opaque formula is safe to use.
Pros
Opaque color with a lightweight consistency

Detoxifies and unclogs pores in the scalp

Cleanses and gently removes any product residues

Removes excess oil and other impurities

Safe for color-treated hair
Cons
Not suitable for daily use

Frequent use can cause dryness

Slightly pricey
Takeaway
You can use this hair product with confidence that it is free of sulfates or damaging substances. This shampoo mildly cleanses your hair without leaving it dry, as it does not strip away your hair's natural moisture.
---
Considering Your Hair Type In Choosing A Suitable Shampoo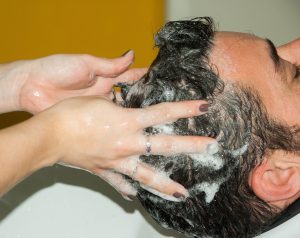 Knowing your scalp and hair type is essential in choosing a suitable shampoo. It will help if you define your scalp health to help you find a formula that will meet the needs of your tresses and your scalp.
Aside from cleansing dirt and removing residues, the right shampoo improves your hair condition and balances its pH level. You will know that you chose the perfect shampoo if you notice yourself having an invigorated hair cuticle and your strands grow naturally.
Determine Your Scalp Type
A dry scalp might give you a tight feeling after washing; it could also be itchy and sometimes come with flaking. If you have greasy hair and notice some dandruff or clumped flakes, it might signify having an oily scalp. It is typically a result of excessive sebum production.
If you're lucky, you might have a combination of these symptoms. Those with thicker strands might notice how their hair can absorb excess oil and make it less greasy. It is best to understand that a healthy scalp is crucial to well-nourished hair.
Choosing A Shampoo For Oily Hair
You may need to choose a shampoo that works efficiently in removing grease caused by excess oils. This shampoo doesn't need to have many moisturizing ingredients, which would only make your hair oilier.
Using a clarifying shampoo might come in handy for excessively oily hair, but do not overuse it to prevent drying your scalp eventually. Sometimes, using a combination of two different shampoos can also help. 
Moreover, dry shampoo can also work well in absorbing excess oil from your hair; it might come in an aerosol spray, powder, or liquid form. Likewise, you need to skip using a conditioner if you have this hair problem.
Choosing A Shampoo For Dry Hair
Stay away from using volumizing shampoos if you already have dry hair to prevent aggravating the condition. Make it a habit to read shampoo labels so you can choose a formula without sulfates, as that can make your hair and scalp drier.
Choose a shampoo that offers to moisturize and condition your hair. Look for a gentle formulation containing oil and silicone to give your hair a protective coating and seal in moisture. Shampoos containing tea tree oil can also aid in moisture retention.
Here are some tips on how you can naturally treat dry, frizzy hair:
Choosing A Shampoo For Curly Hair
Individuals sporting curly hair are more prone to dryness and easily-tangled hair. Such hair type requires special attention; you might find it helpful to pick a protein-rich shampoo to condition your hair follicle deeply.
A moisturizing shampoo can likewise help you tame your stray locks without weighing them down. Those with waves are more likely to have frizzy hair, and as such, you need to ensure that your hair gets proper hydration and nourishment.
Choosing A Shampoo For Damaged Hair
You can treat long and damaged strands with anti-breakage or strengthening shampoos. A strengthening shampoo typically works wonders for damaged hair, whether brittle, over-processed, or colored hair.
Like you would with dry hair, refrain from washing your hair too much if you have this type of hair. If you choose the right shampoo, your color-treated hair won't lose its color so fast. It should have a mild formula and not strip your hair color.
Choosing A Shampoo For Fine Hair
You can give your hair strand an extra boost by using volumizing shampoos. However, it's best to select a lightweight formula that also works best in making your hair look thicker than it is. Straight, thin hair can look lifeless, so ensure using a shampoo that adds more volume. 
Avoid using a shampoo with a creamy consistency and one that contains silicone to prevent buildup or from weighing your hair down. Hydrolized wheat protein is the best ingredient to look out for, as that will give your hair a bulky look.
Choosing A Shampoo For Normal Hair
Although normal hair requires minimal hair care than most hair types, picking a shampoo that can hold its shape well would be an excellent idea.
Some of the best shampoos for this hair type are conditioning shampoos and those infused with green tea extracts. Such formulas can make your hair shinier, while aloe vera can maintain its good health.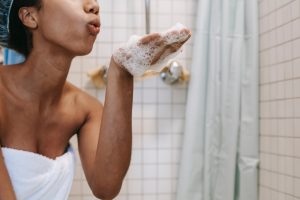 Frequently Asked Questions
What is the best OGX shampoo for dry and severely damaged hair?
OGX Argan Oil from Morocco is the top choice for dry and damaged hair. Morocco hydrating hair shampoo contains argan oil that moisturizes dry tresses by lubricating the hair shafts. It also has silk proteins that boost keratin production to strengthen damaged hair.
Likewise, the OGX Brazilian Keratin Smooth also works well for problematic hair that is overly dry. This OGX nourishing formulation is rich in avocado oil, coconut oil, and cocoa butter. You may also try using OGX Hydrate and Repair Creamy Hair Butter as a hair moisturizer. 
What OGX product works best for maintaining healthy hair?
Coconut Milk Shampoo from OGX is a simple yet effective way to keep hair in optimal shape. Natural coconut milk is high in protein, providing the keratin to ensure healthy tresses that are not prone to breakage since they will have more elasticity.
As such, we find it among the best OGX products for hair growth as it strengthens the strands, making it less prone to hair fall. Aside from strengthened hair, this nourishing coconut milk shampoo also helps promote your hair's natural growth and improves blood circulation. 
How can you prevent hair loss?
OGX Thick Biotin and Collagen Shampoo is well-suited for preventing hair loss. This collagen shampoo does more than volumize thinning strands; it offers essential nutrients supporting overall hair health.
The OGX Thick Biotin Shampoo is among the OGX nourishing formulations that aid in restoring hair elasticity and minimizing falling hair. Aside from the OGX Thick Biotin and Collagen, the OGX Keratin Oil Shampoo can also prevent hair breakage and hair loss or thinning hair.
Final Thoughts
In summary, OGX shampoos come with unique formulations addressing every hair problem any individual can have. Their vast array of products ensures that you'll never run out of hair essentials well-suited to your needs.
We find OGX Teatree Mint Shampoo deserving of being the best overall product for providing the ideal hair nourishment with its powerful ingredients. 
Relatively, Biotin And Collagen Shampoo from OGX offers the best value for enhancing hair strength and vitality at an affordable cost.
Aside from these two, you can check out the other top-rated, in-demand shampoos we have included in our list for your quick reference.