Picking out the best hairstyle that suits your face can be frustrating due to the various options. But before you get a barber's session to do a haircut, you should probably know all your options, some of which have made history over the years and still stand the test of time.
Let's get to it…
The blowout haircut has been trending since the early 90s. It became popular through Pauly-D from the MTV reality show Shore. And yet it still tops the hairstyle list for young guys in this generation. 
Thus, if you have been looking for a nice blowout haircut, you should keep reading to discover some trendy blowout hairstyles that will blow your mind. 
What Is A Blowout Haircut?
A blowout haircut is a famous hairstyle with short faded sides and long top hair designed according to your specifications. The sides are shaved or faded low, leaving a high length of hair on top, which can be brushed backward or sideways. 
When you get a blowout haircut, you can select either a low, mid, or high taper fade on the back and sides. A blowout haircut can be styled with wax or pomade to have a nice look. Hair dryers can also be used to keep the hair in place and style it. 
20 Trendy Blowout Hairstyles For Men
Suppose you wish to change your hairstyle for the week and want to explore several options. Here are some of the trending blowout hairstyles you can choose from:
1. Fade Blowout Haircut
The blowout fade haircut has made history and is still a trend among the popular blowout haircuts for men. Its first appearance was in the 90s in Brooklyn before it spread to other parts of the US. It is also referred to as "Brooklyn Fade." 
The blowout fade haircut features a nice short side fade and thick long hair at the top. The faded blowout haircut would require you to maintain it every 2 to 3 weeks to make the haircut look great. Therefore, you would have to visit your barber if you aren't familiar with maintaining the haircut.
2. High Blowout Haircut
High blowout features lengthy hair with short sides at the top of the hair, but the top hair isn't messy. It's essential that before you can have a high blowout haircut, your hair must be above 3 inches long so that it can be shaped or trimmed to your specifications. You can cut the sides low and design the top hair.  
3. Wavy Blowout Haircut
The wavy hairstyle is more effective when your hair has some layers. Don't worry if your hair isn't curly; a blow dryer and strong pomade will do the trick. It will create messy and waves hair at the top and low faded sides to the back of the head. 
To give your hair a natural texture look, you can use a touch of styling cream and brush the top hair on one side to give a fantastic look.
4. Messy Blowout Haircut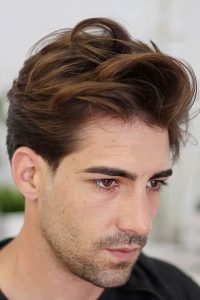 The messy haircut is created using your hands to mess up the hair stylishly, running your fingers through different directions of your hair. This messy hairstyle is the most straightforward style to maintain in case you can't afford to keep straight hair. It's also perfect if you feel the regular fade blowout haircut is old-fashioned and needs a modern blowout style.
5. Quiffed Blowout Haircut
The quiffed blowout haircut is a two-hairstyle in one. It features low hair at the sides, back of the head, and long hair at the top of the head brushed backward. The quiffed blowout haircut portrays a statement that attracts and defines your style. To mold your blowout into a wave shape, you can use your hands to bring it to your forehead hairline gently.
6. Straight Blowout Haircut
The straight blowout style is one you would like due to its bold and classic features. It features straight hair on top of the head and faded sides.
It's perfect for men who don't have time for hair products. 
Although hairspray will still be needed to keep the straight hair in place and preserve the hair's natural texture.
7. Textured Blowout Haircut
Cutting your hair into a nice blowout design might be easy, but adding a design that would define your look might be challenging. If you blow dry hair straight, and it seems like it doesn't appeal, a textured blowout haircut requires you to add texture to the hair, and adding a texturizer would fully transform your hairstyle from being fluffy.
8. Modern Blowout Haircut
You can rock a hair blowout in a modern way that makes for soft and textural hair. Don't add gel to the hair; make sure it stands independently. It also provides you the freedom from using some unprofitable hair products. It always comes out good. You can use a pomade to help keep your hair upward after blow-drying. It has a natural textural finishing.
9. Curly Blowout Haircut
This is a cool blowout haircut, especially when you have naturally curly hair. You can either have a long or short curly blowout haircut. Both styles feature lower sides; you can be as creative as you wish on the top hair. You can grow it into a stylish afro, and you wouldn't need to use any gel for the top hair. 
The short curly is always lovely with its ability to stand up and offer various options for unique styles. Simple looks wouldn't take much time and will still yield a great hairstyle.
10. Pushed Back Blowout Haircut
If you have lengthy hair and wish to push the hair out of your face, this blowout style is perfect for you. It begins by blow drying the hair straight up and then combing the hair lightly, pushing the hair to the back.
If you wish to style the haircut, you could have the sides shaved. You can also apply some pomade to your palm and run it through your hair to perfectly texture the hair and keep it in place.
11. Full Volume Blowout Haircut
If you have thick hair, a blowout will look great on you. Going full volume with your blowout haircut will impose an actual blowout, having a dramatic look. Before going full volume blowout, ensure your hair is long enough before blow drying it. 
You would also need to maintain the style, keeping it well-groomed and neat. If it's not maintained well enough, it becomes unappealing and unstyled.
12. Tapered Blowout Haircut 
The blowout taper fade hairstyle is a gradual decrease of the hair at the sides and the back of the head.
Although a fade and a blowout taper haircut may look the same, they are both different styles. 
A fade features a skin shave off the sides and back of the head, while a blowout taper features a gradual decrease of the hair from the sides to the back of the head. 
It is most often called a taper faded blowout hairstyle. It is one of the most popular blowout haircuts for men. It comes out great when applying pomade to the hair's top for a textural finish. You can rock blowout taper fade style to any event. 
13. Afro Blowout Haircut
Afro hair isn't left out of the blowout trend. Men with afro hair can easily rock this hairstyle without adding any hair gel. This is because of its natural texture and volume. To make this hairstyle have a great look, you just need to properly shave the sides of your head and keep it neat to create a blowout appearance that appeals to the eyes.
14. Crown Blowout Haircut
This is a contemporary hairstyle; it's a cool blowout haircut. It features a high fade on the sides of the head and long hair on the crown of the head. 
The distance between the top of the long hair and the shaved sides causes a stretching effect that favors men with round faces. 
If you have a round face, this crown hairstyle is perfect for you, but reduce the long hair and lower the fade a little. It's more of a formal occasion hairstyle, especially if you like to appear classic or formal.
15. Spiked Blowout Hairstyle
This particular style will work best for you among other blowout haircuts for men if you have straight strands. The spiked blowout hairstyle can be achieved by using a blow dryer to blow out your hair straight up using a comb or round brush, then applying some hair product, and using your fingers to pull the hair upwards into a spike.
If you have thin hair, the outcome is usually excellent because you can use the thin hair to create volume and length for your style. Men with thick hair can get a spiky blowout haircut arranged in any way they want by applying high-quality hair products.
16. Mohawk Blowout Haircut
These combinations give your blowout haircut a punk-incited twist. The hairstyle is unique because it requires the shaving of more hair. Although this style isn't suitable for everyone, you will surely love this hair blowout style if you want a modern hairstyle option to rock. Use any hair product such as gel or pomade to give the hair some texture. 
17. Blowout Haircut With Line
This might look simple, but when inserted rightly, it defines your style. Adding a unique line at the head's side distinguishes the different hair lengths on the head. This design looks great when the top hair on the head is longer. You can add this unique line if you work in a formal environment but still need something to stand out about your style.
18. Short Blowout Hairstyle
The short blowout haircut is an undercut but is still considered a blowout hair design because of the tapered fade and the short hair on top of the head. It's a classic fade hair blowout style; it is more of a contemporary and modern hairstyle. It is complete freedom from maintenance. So, if you want something modern with your short hair, the short blowout haircut is your best bet.
19. Blowout Haircut With Designs
If you want to add spice or get creative with your hairstyle, you can add some lines or shapes to the haircut. You can picture it as a tattoo that depicts your style. And you might wish to add some colors to the haircut, maybe blonde. You can express yourself in any way you want; it's your haircut.
20. Blowout Haircut With Dreadlocks
If you are a fan of dreadlocks but resent having a full dread on your head, then a blowout haircut is your best option. This will leave dreadlocks only at the top while the sides and back of the head are shaved. Depending on your desire, you can either have short spiky locks or grow longer locks, and either of them will give you a great look.
---
How To Achieve The Blowout Haircut
If you wish to achieve a blowout haircut, you would need some tools that help you in this task, and they are:
Professional Clipper 
Trimmer
Shears
Hairdryer
Towel
Hairspray
Hair gel
Combs
Firstly, you begin by using the clippers to create a fade at the sides 2 inches of the hairline. The length of the top hair should be medium to about 6 inches. If you notice, you would have gotten a 2 inches band of faded low hair round the hair from the sides to the back of the head, leaving the top hair at medium length. This is just the beginning of the process.
Secondly, when you are through with cutting the hair, the next thing would be to wash your hair and dry it up with a towel. Then use a comb or round brush to brush up the hair. As you comb the hair up and backward, you can start blow drying the hair.
Thirdly, apply some hair gel and use your fingers to lift the hair that is left, and style it up, to the side, or backward. The hair area with hair gel should be blow-dried. You can then use hairspray to spray on your blowout haircut and blow dry it once more.
Lastly, when blow drying it again and if you notice any stray hair, correct it and stand it up. If you have naturally curly hair, then you can use a flat iron to straighten the curly hair before starting the process.
Dapper Point: There is a trending hairstyle among the yuppies and millennials that they call "fade". The three most common types are low, mid, and high. Learn more about fades here -- Types Of Fades.
---
Watch This!
---
Frequently Asked Questions
Can You Get A Blowout With Short Hair?
Yes, you can get a blowout haircut with short hair. Though the classic blowout hair was designed for long and medium hair, styles such as the cropped style, wavy, curly, and taper fade blowout styles look great on short hair. It is even considered more refined or exquisite than using longer hair.
What Is A Blowout Haircut For Guys?
Blowout haircuts for guys combine a shave across the sides and back of the head to create a copious style. Blowout haircuts are also called taper fades. Each blowout haircut is unique, especially around the sides, tapered around the sideburns, neckline, and temple.
Blowout haircuts are not blow-dried hairstyles or blowout hair because of their tapered features. Just as the sides are pretty short, the top hair is more grown and can be designed whichever way you want. Either messy, curly waves or spiked, or taper fade hairstyles will work effectively, and you can also smooth the haircut with your beard for a sharp look.
Is It Bad To Blowout Your Hair?
No. There isn't much risk attached to blowing out your hair but heat is sometimes not always good. If you are scared of using a heat blowout tool, then you can use a heatless blowout tool like perm rods, which reduces the risk of damage. The blowout hairstyle isn't bad, for it has stood the test of time and is still trending today. It tells you one thing; Blowout haircuts are great.
How Much Is A Blowout Haircut?
Blowout haircut costs can vary between barbershops. When you go to a high-end shop, you will pay more for blowout services than going to a regular barbershop. Mostly blowout services will cost you $45 or less, but for the high-end shop, you should budget for a $90 bill.
Furthermore, the price list for some blowout services can cost as high as $200 to $400, but the benefits will be way higher than the regular blowout service. It lasts longer and can be easily managed.
---
Conclusion
Blowout haircuts have, since inception, remained the most fashionable hairstyle, as it keeps on making your hair look sharp and fashion-forward. It's a hairstyle created especially for people with rounded or oval-shaped faces, and it's widely famous among these young guys.
A high-quality hair product will also work magic, perfecting your blowout hairstyle. You can choose from various options when you revisit your barbershop for a session. Make careful to be as specific as you can about the blowout hairdo you want.